Quality Assurance
Scribendi.com takes commitment to quality to the next level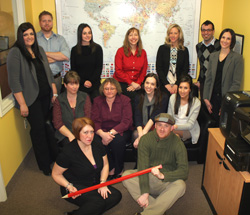 At Scribendi.com, we take pride in the quality of our products and services. As the first online editing and proofreading company to receive ISO 9001:2008 certification, we have designed and implemented a quality assurance process that is unrivaled in our industry.
Our quality assurance process
Our strict quality assurance process is meticulously followed and regularly updated to ensure that our clients receive consistent quality and second-to-none customer service. Some highlights of our system include the following:
A Quality Manager who oversees Scribendi.com's quality and ensures that our ISO quality assurance process is always followed
A quality assurance team that ensures that our highly educated and experienced editors meet our strict quality standards
In-house Editors and a Quality Manager who oversee the coaching and training of our more than 200 editors
Regular evaluation and training by our Quality department to ensure a high level of editing
Research to identify best practices and drive the continuous improvement of our processes, services, and editorial team
Prompt and clear procedures for addressing all customer concerns, including corrective action.
At Scribendi.com, we know that the best measure of the quality of our work is client feedback, and we encourage all of our clients to provide feedback upon completion of every order.