Get the English dissertation editing support you need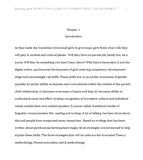 Before Editing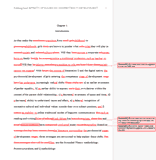 After Editing
(Click to enlarge)
Having an English expert at your side as you advance your graduate career can be critical to your success.
Your supervisor won't have the time to assist you with matters of language; indeed, most advisors barely have enough time to help you with research-related questions.
Let us help. We'll help with your work in progress, checking for style, organization, word choice, concision, and clarity. We'll show you where you need to provide more support for your arguments and provide constructive criticism that will help you improve your English. We will also work on dissertation correction, giving you a first review for spelling, grammar, and typographical errors, cleaning up those distracting oversights and allowing you to focus on creating great content.
We have experienced editors in every academic field. They have worked on countless projects (including their own) in the world of academia. Our selection criteria ensure that your work is assigned to an editor who can give you the most value and help ensure the success of your work.
You can also rest assured that whether you're working on commercially sensitive data or doing a groundbreaking scholarly analysis of Asian cinema, your manuscript will be kept confidential. Uploads and downloads to our server are encrypted, and we have very strict privacy policies.
Dissertation editing help is just a couple of clicks away. Generate a no-obligation quote below and order today!