Impress your clients with professional business editing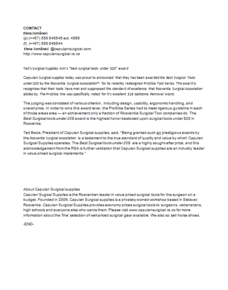 Before Editing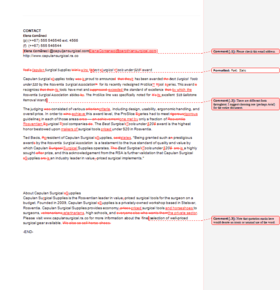 After Editing
(Click to enlarge)
It's a fact—most business documents are written by committee, and it shows.
Sure, it is important to consult everyone on the team and make sure that nothing gets left out, but too many writers can lead to inconsistent, redundant, and unclear writing.
It is time to bring in professional editorial help. Our business editing experts can make revisions in your rough draft for style, tone, clarity, and concision. Our constructive criticism will point out where you need to explain further, or bolster your arguments. We will make sure your document speaks in a unified voice that is designed to reach your intended audience.
Outsourcing your business editing to an objective third party also ensures that your corrections are made without office politics or managerial influence. No feelings will be involved in the process. Your business writing will be improved. You get confidential oversight by an outsider.
We will also take a first look for problems with spelling, grammar, and typographical errors to get rid of all those distracting mistakes, allowing you to move forward to a final draft with confidence.
Working with sensitive material? Don't worry—we keep all documents confidential, and we encrypt all uploads and downloads to our server to ensure that your files are secure. We also have very strict privacy policies with respect to your personal information. We're happy to discuss custom services and requirements for your larger or long-term projects too.
Making us a part of your business document production process is easy. Simply generate a free, instant, no-obligation quote below, and order now!