Structural Editing Will Elevate Your Writing
You've poured your ideas onto the page, but now it's time to refine and enhance your content. Our Structural Editing experts specialize in transforming your document into a streamlined, clear, and compelling masterpiece.
Structural Editing is a professional editorial service that aims to elevate your manuscript to its highest potential. Structural Editing goes beyond surface-level fixes; it's a comprehensive process that examines the overall architecture of your work.
A professional editor will strategically rearrange sections, subsections, and paragraphs of your work to improve its logical flow and coherence. The Structural Editing service ensures that your draft is meticulously revised to make your ideas shine.
How can my work benefit from the Structural Editing service?
Your message should be communicated with precision, making it more engaging and convincing for your readers.
The Structural Editing service is designed to address issues that may hinder your writing's impact. The Structural Editing process ensures that your manuscript reads well, is perfectly paced, and incorporates the essential elements of a compelling document.
Whether you're an author, a student working on a thesis, or anyone seeking to refine their written work, this professional Structural Editing service can help you achieve a better, more persuasive manuscript.
Choose Structural Editing to unlock your content's true potential and engage your readers effectively.
What will you receive with the Structural Editing service?
An edited document in which the structure has been revised to best support your needs
The correction of spelling errors, grammar errors, and typos
Critical commentary to help guide you through any further changes or additions to the work
Tracked revisions so that you can identify and review all the changes that have been made
Suggestions that will help you refine your writing
A short summary of the work that has been completed and any major concerns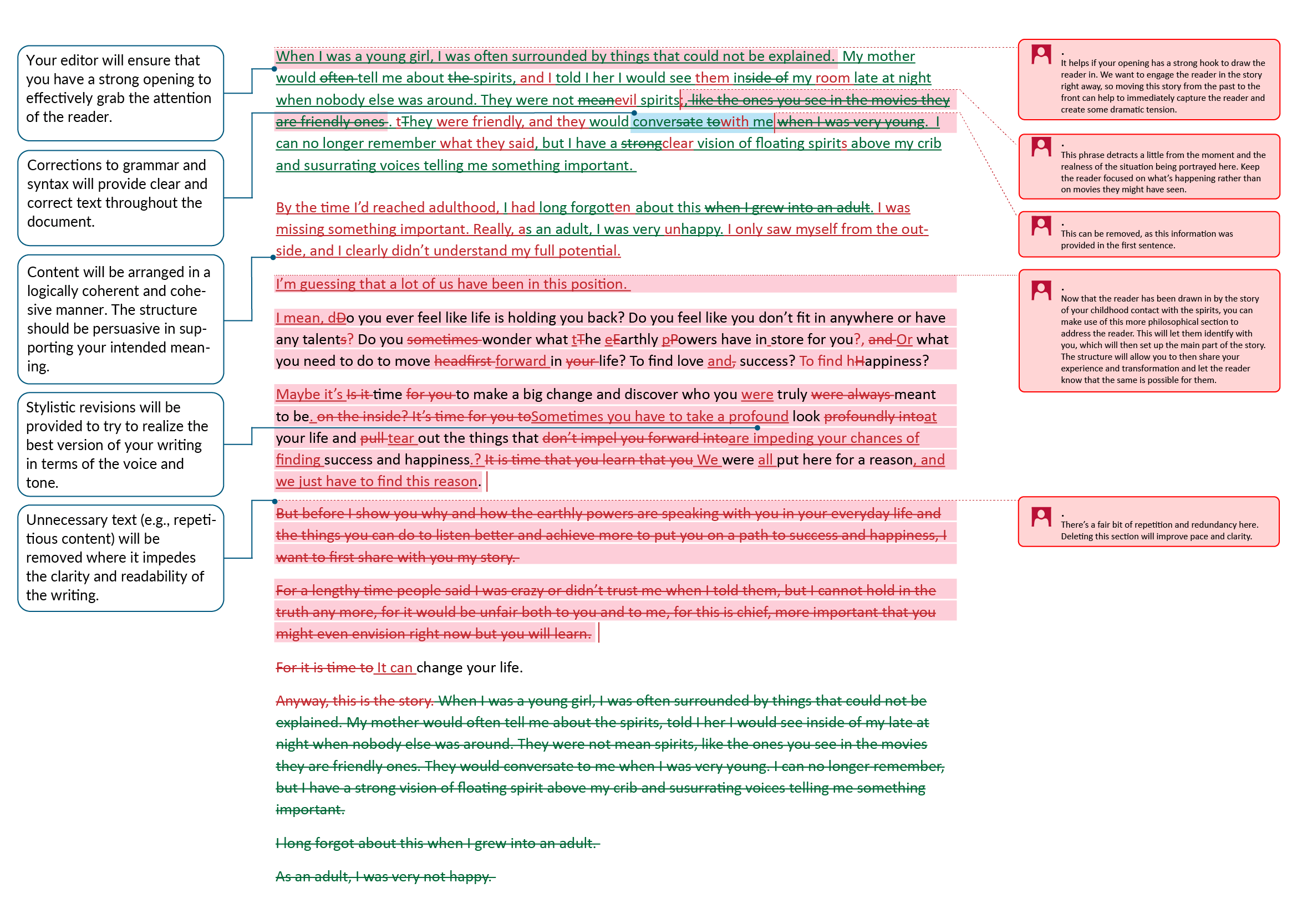 What types of documents can you use the Structural Editing service for?
Manuscripts
Academic work
Business documents
Working with sensitive material? Don't worry—we keep all documents confidential, and we encrypt all uploads and downloads to ensure that your files are secure. We also have very strict privacy policies regarding personal information.
It's easy to get the substantive structural editing you need. Simply get an instant quote below, and order now!
Get an Instant Quote and Place Your Order
Structural Editing FAQ
What is structural editing?
Editors perform structural editing to employ the best structure and organization of a written work. Our Structural Editing service focuses on enhancing the coherence, flow, and logical progression of your writing to ensure it effectively communicates your intended message. Structural editing often involves restructuring and refining manuscripts to make them more impactful and engaging.
What is the difference between structural editing and copyediting?
While structural editing focuses on improving the overall structure, organization, and flow of a document, copyediting focuses on correcting grammar, spelling, and punctuation mistakes as well as ensuring consistency in terms of style and tone. While our Structural Editing service shapes the content's big picture (e.g., Dissertation Editing), a copyediting service polishes finer details (e.g., Dissertation Proofreading).
What are the main benefits of structural editing?
The main benefits of structural editing include improved clarity and enhanced flow. In addition, structural editing helps writers eliminate inconsistencies, ensure a logical progression of ideas, and tailor their content to their target audience. Our Structural Editing service aims to improve the overall quality of a manuscript, making it more compelling, persuasive, and suited to its intended purpose.
What types of writing need structural editing?
Structural editing is beneficial for a wide range of writing, but it is particularly useful for long and complex documents. Structural editing is essential when seeking academic editing, where clarity and logical flow are crucial. Any writing that aims to communicate information clearly or tell a compelling story can benefit from the attention to organization and coherence that structural editing provides.