Scribendi Transitions to ISO 9001:2015
Scribendi is excited to announce that we have successfully transitioned to the new ISO standard, ISO 9001:2015.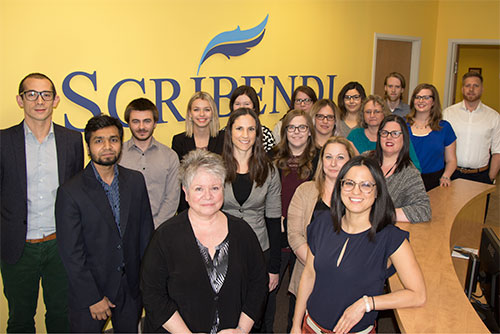 To achieve this, we performed a comprehensive review, updated our processes, and made improvements throughout our entire system, with the aim of ensuring consistency in editing and making our customers happy.
As an ISO-certified company, Scribendi creates, maintains, and follows rigorous processes that ensure that we are able to meet our high quality standards every time. For the customer, this means that we deliver on time and respond quickly and consistently.
Unlike many uncertified editing and proofreading companies, Scribendi clients can expect the same high-quality editing and proofreading services each time they place an order.
According to Bryan Russell, Scribendi's Quality Manager, "ISO certification means that Scribendi's quality processes, which have been tailored over 500,000 client orders and 20 years of business to ensure effectiveness, are implemented by every editor with every order. It is with such rigor and attention to detail that the highest quality can be maintained."
Scribendi is proud to receive recognition that we are operating according to these high standards. The transition to ISO 9001:2015 is further confirmation that Scribendi is committed to quality services and satisfied customers.
What Is the International Standards Organization?
ISO is an international, non-governmental organization with 162 national members. ISO allows experts to share knowledge and develop voluntary, consensus-based, and market-relevant international standards that support innovation and provide solutions to global challenges. To learn more about ISO, check out their website: https://www.iso.org/about-us.html.
To learn about how the ISO 9001:2015 certification differs from the ISO 9001:2008 certification, please click here.