Scribendi Wins Bronze Stevie® Award in 11th Annual Stevie Awards for Sales & Customer Service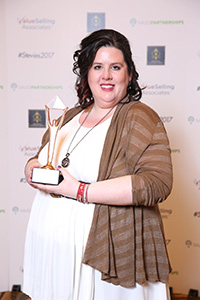 Scribendi has won a Bronze Stevie® Award in the e-Commerce Customer Service Award category in the 11th annual Stevie Awards for Sales & Customer Service.
Presented during a gala banquet on Friday, February 24, 2017 at Caesars Palace in Las Vegas, the Stevie Awards for Sales & Customer Service were designed to recognize customer service teams "for their innovative use of online technologies and social media to service the needs of customers." The ceremony was attended by more than 650 executives from around the world.
More than 2,300 nominations from organizations of all sizes and in virtually every industry were evaluated in this year's competition, an increase of 10% over 2016. This was the 11th annual awards ceremony and Scribendi's first time participating in the Customer Service and Sales category.
Scribendi's customer service team is invaluable to everyday operations. The team fosters an unflinching commitment to providing high-quality customer service, combining traditional customer service methods and attitudes while embracing technology to better communicate with customers on the platforms that are familiar to them.
The Scribendi team is honored to have received this award and will continue to strive for excellence in customer service. For more information about Scribendi's awards, visit the Scribendi awards page!