Scribendi Launches Sleek New Website to Celebrate 20 Years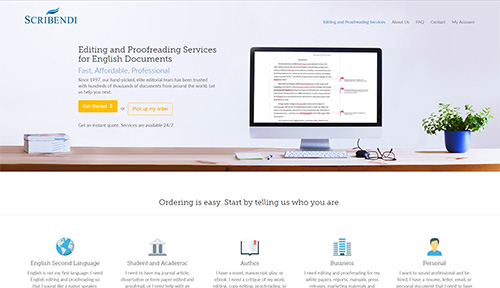 Scribendi is celebrating 20 years in the editing industry in style. We are excited to announce that we have just launched a brand new website that will offer the same great editing and proofreading services with a sleeker, more modern design. This stunning new platform was carefully designed with our clients in mind to help them access Scribendi's fast, affordable, professional editing and proofreading services with ease. Eye-catching images, an intuitive layout, and interactive features—such as the quote widget and live chat tool—combine to create a unique and streamlined experience.
Our goal was to make site navigation and the ordering process as quick and simple as possible, ensuring that visitors' impressions of the site reflect the abilities of our professional editors. The new website demonstrates our continued commitment to quality, innovation, and the needs of our clients, who were central to the redesign process through their feedback, reviews, and comments.
The unveiling of Scribendi's new website not only symbolizes our growth as a company but also marks a significant milestone in the company's history. Originally founded in 1997 by Chandra Clarke and Terry Johnson, Scribendi has now been providing top-notch editing and proofreading services online for two decades.
In early 2017, Patricia Riopel and Enrico Magnani of MAGNUM Capital Partners took up leadership of Scribendi. Under their management, and with the coordinated efforts of the entire in-house team—including our IT, marketing, customer service, and editorial departments—we are excited to share the results of our work with our clients, both new and returning, and to enter the next 20 years continuing to live up to Scribendi's motto: helping the world communicate more clearly, one comma at a time.
The new website is an exciting advancement for Scribendi, and it's just the beginning! We will be rolling out many new features in the coming months, so be sure to keep watching our blog and social media platforms to stay up to date with the latest news from Scribendi.