Employment Opportunities
Where do I send my application?
After you've read our employment FAQ (this page), you can send your application using the instructions provided for your desired position on our Employment page.
What types of positions do you have available? Will I be working full-time?
We hire both telecommute and in-house editors. Please check our Employment page for current listings and requirements.
If you are hired for a telecommute editing/proofreading position, you'll be an independent contractor, working for us. Whether it's full- or part-time depends in part on assignment availability and your own schedule; however, we do give preference to editors with full-time availability. In order to remain on the roster at Scribendi.com, you'll have to commit to doing at least 10,000 words per month.
Why should I work for you?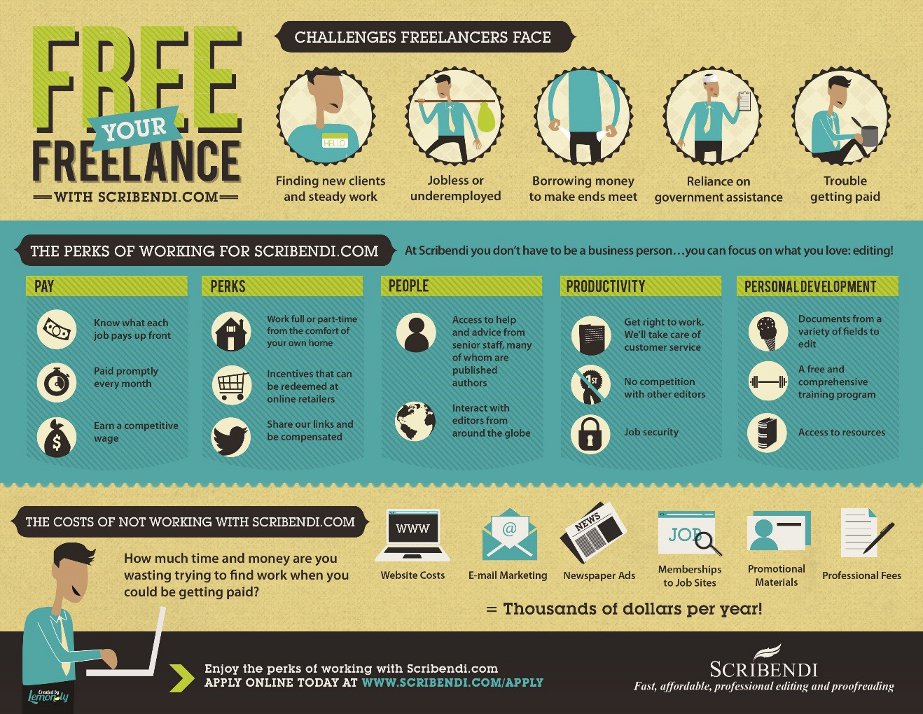 (Click to enlarge the infographic)
We offer telecommuters the opportunity to work from the comfort of their own homes; the ability to pick and choose assignments based on their interests, expertise, and schedules; variety; and most importantly, we pay promptly. We also handle all the hassles associated with traditional freelance jobs, like advertising, marketing, billing, and customer service.
We offer in-house staff a competitive salary and benefits package; a selection of work schedules including weekends and evenings; state-of-the-art facilities; and a pleasant working environment.
How do you evaluate editors' work?
Scribendi routinely performs quality assurance checks to ensure that editor work is of a high quality. These provide extensive feedback on your work, noting errors and suggesting areas for improvement. We provide full transparency in terms of our scoring system and methods of evaluation.
Can I call or email you for more information about a position or talk to you about my application?
Sorry, no. Only those applicants being considered for a position will be contacted.
Do I have to be American or Canadian to edit for you?
No, Scribendi.com receives orders for editing in all varieties of English (e.g., U.K., Australian) and welcomes applicants with expertise in these areas.
Is this a site where I bid on jobs, view job listings, or try to find freelance gigs?
No, it is not. We are a language services firm, not a freelance job portal, employment site, marketplace, or client/editor job match site. If you are successful in your application, you will be working for us.
Will I have to do any free sample edits for you? I've read of instances where some companies send out "tests" that turn out to be chunks of documents the companies are farming out. They get free work, and the applicant never gets hired.
We do have a standardized test, but it's just that—a test, not some document we're farming out. We don't condone making applicants work for free, and we don't think it's a good business practice to get work done for clients by sending it out to several different editors that we haven't thoroughly vetted.
We do offer free sample edits to clients, but we pay our editors to do these.
I live in Mumbai/Bookaloo/Joe Batt's Arm/Lower Mongolia. Can I still work for you?
Yes, we welcome applicants from all over the world. Telecommuters must be able to accept payments via PayPal, per the requirements listed on the Scribendi.com Employment page.
I sent in a resume a while back, but haven't heard from you. What's up with that?
Either we reviewed your resume and found that it didn't meet our requirements, or we have filed it for our next hiring period. We keep resumes on file for six months.
What are the technical requirements for working with you?
Working with Scribendi.com requires a PC (not Macintosh computer) equipped with Microsoft Word 2010 (minimum). Unfortunately, we do not allow the use of Mac OS X because of compatibility issues.
Working for Scribendi.com requires a moderately advanced level of computer and Internet knowledge. You need to be extremely comfortable with downloading and uploading files, attaching files to emails, saving and finding files on your computer, file transfers, renaming files, using a website interface, and using an instant messaging service. You should have a good working knowledge of the major document file formats and their associated software programs. You should also be Internet savvy enough to know where to look to find out more about a particular file format or subject. As we also sometimes get documents that misbehave, the ability to troubleshoot technical problems is extremely helpful.
How will I know if I'm being considered for a position with Scribendi.com?
If you are being considered for a position with Scribendi.com, we will notify you via email. This applies to telecommute employment as well as in-house editing and staff positions.
I'm new to editing/proofreading. Can you give me some career advice?
Unfortunately, no. We're not a career counseling organization. We do, however, encourage you to review our Employment page. If our requirements fit your skill sets, we'd love to have you apply. Based on our years of experience and internal training programs, we have also created online courses that may be of interest to you.
Do I have to pay to work for you?
Absolutely not. There are no application fees, system access fees, etc.
Where are your in-house editing positions and staff employment opportunities located?
Our in-house editing/proofreading and other positions are based in Chatham, Ontario, Canada.
How long have you been in business?
We've been online and in business since 1997.