Scribendi.com "Gets It Write" with Intel
How Intel has helped our company grow
June 18, 2008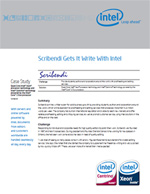 Intel, the world leader in silicon innovation, has featured Scribendi.com in a case study, profiling our company's reliance on server technology and online software. The study, which is posted in Intel's Small Business Intelligence Community, focuses specifically on our use of Quad-Core Intel® Xeon® processors and Intel® Centrino® processor technology.
Providing customers with fast, secure service is extremely important to our company. "People are entrusting you with something that is very important to them," remarks Scribendi.com president, Chandra Clarke. "You want to make sure you get it right." This need to "get it right" was a driving force behind our company's decision to upgrade to powerful Intel products. Finding a robust server that could house our company's highly sophisticated proprietary software, as well as handle client documents, was crucial. Luckily, the Dell PE1950 server with Quad-Core Intel® Xeon® processor technology is a highly advanced system, capable of handling the constant influx of requests and uploads from our clientele.
The case study explains how investing in technology allows our company's management team to focus on building the business, rather than on solving administrative issues. "Our hardware and software take care of things that would otherwise be drudge work and enable our staff to work efficiently," says Clarke. Further advantages are also mentioned in the study, including how the technology upgrade has positively affected Scribendi.com's sales and improved users' experience.