Scribendi.com Bolsters Online Security with VeriSign Certification
VeriSign features Scribendi.com's implementation in a case study
July 2, 2008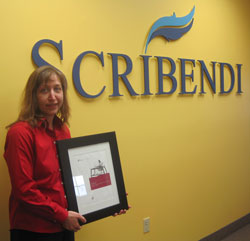 We have increased customer trust by deploying VeriSign's Secure Site Pro with Extended Validation (EV) SSL Certificates. This new security feature provides our clients with instantly recognizable assurance that they have reached the genuine Scribendi.com website.
We chose to employ the VeriSign EV SSL Certificates for a number of reasons, the most obvious of which was safety: "We wanted to reassure our customers that the firm they're dealing with is genuinely Scribendi.com," says Vice-President Terence Johnson in a VeriSign-produced case study on the implementation.
So how can our clients tell that the new security feature is working? It's as easy as glancing at the address bar on their web browser. The VeriSign EV SSL Certificate program enables many browsers to display a green address bar, which allows web visitors to recognize that they are transacting with a validated business rather than an illegitimate, impostor website. Another cue is a lock icon that appears next to the website's address.
This new security feature is employed end-to-end throughout our business processes. With this new technology, we are able to encrypt information for transmission to and from customers, as well as for all internal communications. The main concern for many writers is protecting their intellectual property; with the new VeriSign EV SSL encryption, our clients can rest assured that VeriSign has conducted all of the necessary background checks to guarantee that we are a reputable online business.
For more information on our use of VeriSign EV SSL Certificates, please view VeriSign's case study, "Scribendi Sees Conversions Soar" at VeriSign.com.