Welcome Home Chatham-Kent Youth
Scribendi.com sponsors local youth attraction and retention conference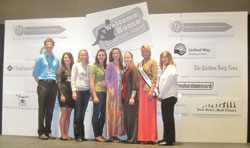 Over the weekend, Scribendi.com enjoyed the opportunity to network at the first annual Welcome Home Chatham-Kent event, hosted by the United Way of Chatham-Kent.
Young adults in Chatham-Kent were invited to the John D. Bradley Convention Centre to learn more about the great opportunities available in the area and to engage in peer-to-peer networking.
"We want to get the message out that if you're seeking both an interesting, productive career and a healthy work-life balance, Chatham-Kent is worthy of serious consideration," explained Vice-President, Terence Johnson. "Our economy has diversified tremendously since we first started Scribendi in 1997."
The community came together to welcome home the young men and women returning to Chatham-Kent for the summer holidays and to showcase all the opportunities the area has to offer. The event was a success, with over 20 local businesses setting up information booths. We spoke to attendees about current and future opportunities at Scribendi.com, and we showed our Free the Apostrophe video and gave away a giant red pencil! Scribendi.com was thrilled to participate and welcomed the chance to reach out to youths in the area.
Chandra Clarke, President of Scribendi.com, was one of the keynote speakers at the "Lunch and Learn," which featured a variety of successful members of the Chatham-Kent community. Her speech showed that Chatham-Kent is capable of hosting international companies, as she has continued to prove with Scribendi.com's global success.
Caress Lee, Youth Coordinator at the United Way of Chatham-Kent, did an excellent job organizing and hosting the event. Scribendi.com looks forward to welcoming home the youth of Chatham-Kent again next year!