Scribendi.com Invests in Chatham-Kent through Continued Growth
Online company expands their Chatham headquarters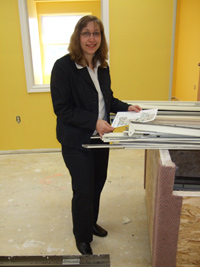 June 10, 2009
We are investing in the future of Chatham-Kent by expanding our international editing and proofreading company headquarters, currently located in Chatham at 405 Riverview Drive.
Since moving into the Riverview Place Professional Building in 2007, we have created 11 local full- and part-time jobs. We are currently renovating more than 2,500 square feet of office space on the building's upper floor to accommodate a workforce that is anticipated to expand rapidly in the coming year. Our headquarters staff provides customer service, quality assurance, corporate account management, and technical support for our growing team of editors worldwide. The move, scheduled to take place July 1, is part of an aggressive five-year growth and expansion plan for our company.
Our co-founders, Chandra Clarke and Terence Johnson, couldn't be happier with the decision to keep our headquarters in Chatham-Kent. In fact, Clarke attributes our success in online editing and proofreading directly to the decision to stay based in a small-town community, as opposed to a major urban center.
"You just can't beat the quality of life and the cost of living in Chatham-Kent," says Clarke. "It's a fantastic place to live and do business."
The current economic downturn has made us more determined to create additional white-collar jobs in the Chatham-Kent community in an effort to help relieve the area of its dependency on the troubled automotive industry. We also hope that our company will act as a model for other local entrepreneurs, encouraging talented minds to grow their ideas right here in Chatham-Kent.