Scribendi.com Clowns Around for the United Way
Scribendi.com's staff spend Canada Day fundraising at Art in the Park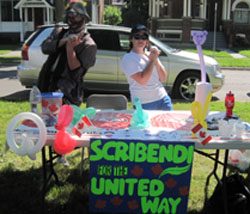 We spent Canada Day participating in the Art in the Park festivities by making balloon animals and painting faces to raise money for the Chatham-Kent United Way. All of the funds raised will go towards the Chatham-Kent Amazing Race, which has helped raise money for the United Way for five years.
"Thousands of volunteers, tremendous media coverage, and support ... a fun-filled day for everyone," explained Veronica McCloskey of the United Way of Chatham-Kent. "This is our sixth, and perhaps our most exciting, race ever. Teams have been selected and are busy raising pledges to support the hundreds of agencies, programs, and services that benefit from the United Way."
The mission of Chatham Kent United Way is to improve lives and build a strong community in Chatham-Kent, something Scribendi.com President, Chandra Clarke, proudly encourages.
"The United Way is incredibly important here in Chatham-Kent," Clarke said. "Not only does it provide services for those who are in need, it does a great job of bringing people together and promoting our community and its well-being. We're proud to help them out."
Scribendi.com participated in the Amazing Race in 2010 and, even though we didn't place in the top 10, we had a great time trying. This year we will be returning with a new team: "The Sons of Hemmingway."