Scribendi.com Braves the Rain to Participate in the Muddy River Run
Scribendi.com participated in the third annual Muddy River Run in support of VON in Chatham-Kent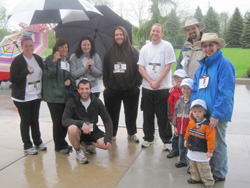 In-house staff joined Scribendi.com President Chandra Clarke and Vice-President Terry Johnson on Sunday, May 15, 2011, in the Muddy River Run to raise funds for the Chatham-Kent VON. Staff braved the cold, wet conditions to participate in the third annual event hosted by VON to promote a healthier community. The Muddy River Run included a 10K and 5K competitive run, a walk or urban Pole, and a 5K Fun Run.
"In spite of the weather, we had an absolute blast doing this," said Clarke, who was joined by her three young children and husband. "It is important for us, as employers, to encourage our employees to be personally active for their own well-being, and to be active in the community. We hope to see more people out next year!"
One of Scribendi.com's in-house editors, Neil Wood, took a break from editing and proofreading to run on Sunday: "The Muddy River Run was nothing short of amazing and Team Comma Splice and Team Grammar Hammers' performance was inspiring!"
This year the Muddy River Run brought out approximately 200 supporters. The Scribendi.com teams included 12 staff and their family members. Scribendi.com is thrilled to have been a part of the Muddy River Run and is looking forward to returning in 2012.