Scribendi.com Donates 192 T-Shirts to Charity
Staff at Scribendi.com dig through their closets to help those in need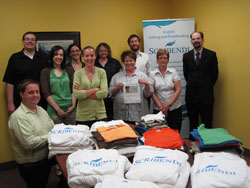 June 8, 2010
Scribendi.com collected more than 60 shirts from staff in a shirt drive that took place at company headquarters throughout the month of May. As a way to motivate staff to donate, President Chandra Clarke and Vice-President Terry Johnson pledged to donate two company t-shirts for every one t-shirt donated by staff.
"We felt this would be a very tangible way for staff to get involved in one of our causes," said Clarke. "It's one thing to donate time or money, and we do that too, but this was something we knew would help people immediately in a very real way. We hope the shirts make a difference."
Donating a lightly worn t-shirt is a simple and free way for staff to get involved with a good cause, help promote an active and community-oriented company culture, and make a difference.
"I donated several shirts as it was a very small thing for me—someone who has so much—to do for those who have so little," said Deborah Attwood, an in-house editor. "I think this shirt drive was a wonderful idea!"
It took four employees to carry the two 50lb boxes of shirts to the post office, but after some strategic maneuvering, the shirts were on their way to helping people around the world.