Scribendi.com Founders Donate to Community Green Initiative
Scribendi founders donate green to community green initiative
May 22, 2009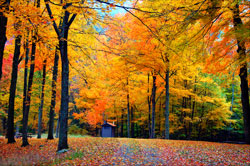 We have been seeing plenty of green lately—and not just in the way of sales. We're helping "green-up" our community by making a donation of $1,000 to the Municipality of Chatham-Kent and the Chatham-Kent Green Initiative Project.
The donation, which will be used to purchase tree stakes, took place Friday, May 22, outside the Lower Thames Valley Conservation Authority office in Chatham. Our founders, Chandra Clarke and Terence Johnson, presented the funds to Randall Van Wagner, the Conservation Authority's Environmental and Forestry Partnership Coordinator.
Chandra and Terence are both personally and professionally dedicated to making Chatham-Kent a more sustainable community. In February 2008, we donated 10,000 peat pots to the Municipality of Chatham-Kent in order to help improve the area's natural habitats. Our head office is also designed to be as green as possible, instituting mandatory recycling, installing energy-efficient lighting, and reducing unnecessary paper waste.
The Chatham-Kent Greening Initiative was announced in 2007 in order to help restore Chatham-Kent's natural environment. Partners in the project include Stewardship Kent, the Ontario Ministry of Natural Resources, and the Lower Thames Valley Conservation Authority. Many local companies have also helped fund the project via volunteer support and monetary donations. Clarke and Johnson hope that our most recent contribution will inspire other citizens to continue their support.