Scribendi.com Hosts a BBQ to Benefit Local Greening Initiative
Proceeds will provide pots, soil, seedlings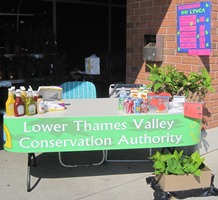 Our staff came together to organize a barbecue to raise funds for a local greening initiative. All proceeds benefitted the Lower Thames Valley Conservation Authority (LTVCA)—a foundation Scribendi.com has a history of supporting.
"The owners and staff at Scribendi.com demonstrate a keen interest in the ecological health of our region and have contributed to several environmental causes over many years," says Randall Van Wagner, Environmental Project Coordinator for the LTVCA. "Funds raised from this event will assist this not-for-profit program of increasing tree coverage in our region and go towards the purchasing of pots, soil, metal stakes, and seed collection bags. These items will help us propagate seedlings to be planted in the community."
In September, our staff will help plant seedlings and shrubs—purchased with the proceeds from the barbecue—in Chatham, Ontario.
The LTVCA is dedicated to providing services and programs that protect, manage, and improve the local environment. Since 2006, the LTVCA has facilitated the planting of more than 400,000 trees throughout their 3,275 square-kilometer jurisdiction of the lower Thames River.
"Preservation of the environment is the key to everything," stated Chandra Clarke, President of Scribendi.com. "A clean, healthy environment is vital for human health and well-being, and by extension, it is crucial to our community and our economy."
In 2010, Scribendi.com volunteered to spend Earth Day planting trees at Paxton's Bush to benefit the LTVCA. In order to improve the area's natural habitats, they also donated $1,000 to the Chatham-Kent Green Initiative and the municipality in May 2009, and donated 10,000 peat pots to the Municipality of Chatham-Kent in February 2008. Scribendi.com's head office is also designed to be as green as possible; they have instituted mandatory recycling, installed energy-efficient lighting, and reduced unnecessary paper waste.