Scribendi.com Founders and Staff Volunteer at Paxton's Bush for Earth Day
Trail work completed and 150 trees planted at Paxton's Bush in Chatham
April 22, 2010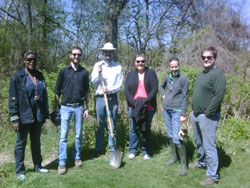 In celebration of Earth Day, Scribendi staff rolled up their sleeves to plant trees and seedlings and assist with trail work at Paxton's Bush in Chatham.
"Chatham-Kent has one of the lowest levels of tree cover in Ontario, and it is important to increase and preserve what we have," said Chandra Clarke. "Paxton's Bush is a key area for families to visit and for teaching kids about nature. From a business point of view, such things are important for quality of life and employee retention."
Paxton's Bush is the largest forest within the city of Chatham and is home to a variety of distinct tree species, including the Butternut, American Sycamore, Tulip, and Hackberry. Paxton's Woodlot Revitalization, a Lower Thames Valley Conservation Authority project, aims to maintain the trail and protect and improve the unique tree species.
Over 150 shade-tolerant shrub and tree varieties will be planted, and substantial improvements will be made to the trail this week, explained Randall Van Wagner, Environmental Project Coordinator at the Lower Thames Valley Conservation Authority. "Scribendi.com and Union Gas have donated funds and volunteers to make this happen."
Our president, Chandra Clarke, and vice-president, Terence Johnson, are both personally and professionally dedicated to making Chatham-Kent a more environmentally friendly community. They donated $1,000 to the Chatham-Kent Green Initiative Project and the municipality in May 2009. They also donated 10,000 peat pots to the Municipality of Chatham-Kent in February 2008 in order to help improve the area's natural habitats. Our head office is also designed to be as green as possible, instituting mandatory recycling, installing energy-efficient lighting, and reducing unnecessary paper waste.
About Paxton's Woodlot Revitalization
The primary objective of the revitalization project is to improve the biodiversity of the woodlot. In particular, the east side of the property lacks understory species and requires special attention. Educating the Chatham-Kent community through signage and improving the trail system are also important components.