Scribendi.com Makes Over Men's Health by Becoming Mo Bros and Mo Sistas
Staff come together to support the fight against prostate cancer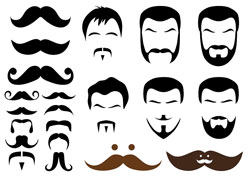 November 1, 2010
During the month of November, Scribendi.com will be participating in a global initiative known as Movember. Movember encourages men to grow a moustache for the entire month of November in order to raise awareness of, and funds for, the fight against prostate cancer.
"I would love to grow some hair on the top of my head to go with my moustache and beard, but sadly, that's not going to happen," said Vice-President Terry Johnson, who already sports a moustache. "In the meantime, I'm thrilled we're drawing attention to such a good cause."
Being an international company with remote editors located around the world, the reach of this month-long challenge for Scribendi.com is huge. Scribendi.com hopes to collect funds locally and raise awareness for prostate cancer on an international level, all while having fun.
Every week, moustache progression photos will be shown on Scribendi.com's Facebook and Twitter pages. Social media fans of the editing and proofreading company and local community members are also encouraged to participate.
Scribendi.com is offering prizes for the best 'stache voted by the social media community (by "liking" the photos on Facebook), the best 'stache voted by a Scribendi.com judging panel, the most creative female contribution, the highest fundraising amount from in-house/remote editors, and the highest fundraising amount from fan participants.
To register, please visit https://ca.movember.com/register/details and complete the online form as a Team Member. Once the form is complete, you will be asked to search for a team. Search for "Grammar Hammers"...that's us!