Generous Contribution Helps Tree Coverage in Chatham-Kent
Scribendi teams up with LTVCA to plant trees in local park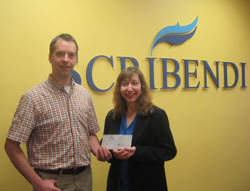 With Earth Day right around the corner, Scribendi.com is once again teaming up with the Lower Thames Valley Conservation Authority (LTVCA), providing a generous donation to help fund the planting of 20 trees in Mid-Wood Oxley Park in Chatham on April 24th.
"I find that a walk in the woods is a great way to conquer writer's block, so our tree cover and our beautiful parks are one of the reasons I enjoy living and doing business in Chatham," said Scribendi.com's Vice-President, Terry Johnson. "These trees will contribute to keeping our air clean, and as they mature they will provide natural cooling and shade in the heat of summer. We're proud to be contributing to a healthy, sustainable community."
Scribendi.com has dedicated itself to raising money and planting trees for the LTVCA over the past four years and will continue this green tradition by making a donation of $500.00, which the LTVCA will then match. This means a total of $1000.00 will be spent on trees to be planted by Scribendi.com staff for Earth Day.
This spring, Scribendi.com will be planting Carolinian trees at the local park, which connects to the O'Neill Woods Nature Preserve (formerly Paxton's Bush).
"This forest is an important rest area for migratory birds passing through this region, and these newly planted trees will provide an added food source and habitat for them," said Randall Van Wagner, Environmental Project Coordinator at the LTVCA. "Park users will also benefit from the added shade, beautification, and oxygen production that these native trees will provide. Scribendi.com has been an annual donor to the Chatham-Kent Greening Partnership, and continues to provide financial and volunteer assistance to improve our environment."
By donating both time and financial support to green initiatives such as the LTVCA, Scribendi.com President Chandra Clarke and Vice-President Terry Johnson's contributions will help maintain and improve Chatham-Kent's environment, benefitting both the local wildlife and the local community.