Staff Volunteer to Plant Trees at Chatham Park
September 15, 2011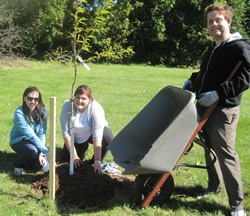 Scribendi.com staff spent the day planting trees at Henry Weaver Park on the corner of Duke Street and Park Street. The Chatham-Kent area has one of the lowest levels of tree coverage in all of Ontario, so planting trees and enhancing our local park areas contribute to a happier and healthier environment for our children. Thanks to our staff's fundraising efforts and willingness to dig in, one of Chatham's parks is now home to a number of new trees.
"The effort the community has put into revitalizing the downtown east side is impressive," said Terry Johnson, Vice-President of Scribendi.com. "We're proud to contribute to making this park even more welcoming for local kids."
In July, Scribendi.com held a barbeque to raise money for the purchase of trees by the Lower Thames Valley Conservation Authority (LTVCA) for this project. At the BBQ, Scribendi.com staff members handed out 50 seedlings to help raise awareness of our low tree coverage and to promote the growth of native tree species in our region.
"The owners and staff at Scribendi.com demonstrate a keen interest in the ecological health of our region, and have contributed to several environmental causes over many years," said Randall Van Wagner, Environmental Project Coordinator at the LTVCA, about our efforts. "They continue to support the LTVCA's greening efforts financially as well as through their staff's involvement in hands-on activities."
President of Scribendi.com, Chandra Clarke, and Vice-President, Terry Johnson, both feel strongly about preserving and maintaining the environment of Chatham-Kent. This is demonstrated by their involvement in greening initiatives over the years. In 2010, the founders and staff of Scribendi.com teamed up with Union Gas to spend Earth Day planting trees at Paxton's Bush. Their efforts resulted in the planting of 150 trees. In May of 2009, Clarke and Johnson donated $1,000 to the Chatham-Kent Green Initiative Project.