TheWorkAtHomeWoman.com Interviews Scribendi.com's President
Chandra Clarke hopes her story will inspire others
August 11, 2009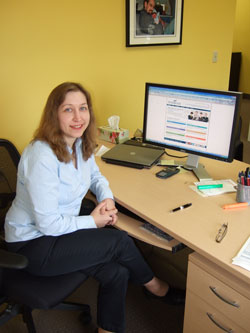 Our company president, Chandra Clarke, has been interviewed by TheWorkAtHomeWoman.com, a website that publicizes nontraditional career and work opportunities for women.
Clarke recently spoke with TheWorkAtHomeWoman.com about the complexities of balancing entrepreneurial pursuits and a growing family. TheWorkAtHomeWoman.com feature, which is a short interview, is posted online.
When asked how she felt about being interviewed by the women's website, Clarke was quick to voice her gratitude.
"Whenever you get the chance to inspire someone to follow their dreams, it's an honor," Clarke said. "I can only hope that my story helps other women recognize the potential of nontraditional career opportunities."
Clarke has long been an advocate of alternative employment; we currently employ an international roster of more than 100 remote editors. If you would like to learn more about this and other employment opportunities, please visit our Employment page for more details.