Scribendi.com President One of Canada's Top Female Entrepreneurs
Chandra Clarke honored for her entrepreneurial spirit by PROFIT Magazine
October 19, 2010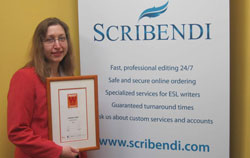 Scribendi.com President, Chandra Clarke, has been recognized for female entrepreneurial achievement by PROFIT: Your Guide to Business Success magazine. One hundred top female Canadian entrepreneurs were honored.
"I'm thrilled to be a part of this group this year," said Clarke. "Running a business can be hard work, but this kind of recognition is one of the many reasons that make it worthwhile."
Ranking Canada's top women entrepreneurs on a composite score based on the size, growth rate, and profitability of their businesses, the PROFIT W100 profiles the country's most successful female business owners. PROFIT W100 is Canada's largest annual celebration of entrepreneurial achievement by women.
"The 2010 PROFIT W100 are ambitious, savvy business leaders who defy stereotypes," says Ian Portsmouth, Editor of PROFIT. "Canada's top women entrepreneurs deserve the highest praise for their ability to spot opportunity and grow profitably."