Scribendi.com President Recognized by OWIT for Female Export Achievement
Chandra Clarke awarded the Woman Exporter Award by OWIT
December 30, 2010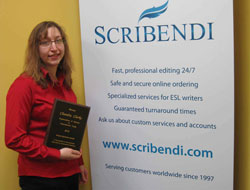 Scribendi.com President, Chandra Clarke, was awarded the Woman Exporter Award by the Organization of Women in International Trade (OWIT) – Toronto. The Toronto chapter of OWIT is part of a worldwide organization dedicated to advancing global trade opportunities for women.
"I am absolutely thrilled to be the OWIT winner this year," said Clarke. "At Scribendi.com, we have worked hard to diversify our customer base and reach out to customers around the globe, and it's a great pleasure to be recognized for that effort."
The award recognizes an outstanding Ontario-based woman entrepreneur who successfully exports to more than one international market. Through their business, the recipient advances women and/or the image of Canadian business women in the international business community.
A pioneer in the male-dominated field of computer programming and Internet technology, Clarke developed and implemented Scribendi.com's original website and proprietary backend workflow system in 1997.
The awards were presented at OWIT-Toronto's annual Gala at The Four Seasons Hotel in Toronto. The Organization of Women in International Trade – Toronto provides networking and professional development opportunities, with particular emphasis on women working in all facets of international trade.