Scribendi.com Joins the Canadian Celebration of Literacy and the Written Word
Over the weekend, Scribendi.com met thousands of authors at the annual The Word On The Street festival in Toronto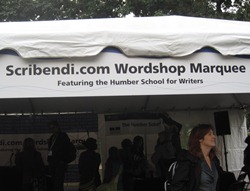 As a sponsor of the Wordshop Marquee, coordinated by the faculty of the Humber School of Writers in Toronto, Scribendi.com sent three of its employees to this year's The Word On The Street festival to set up a booth and meet with authors. Their booth was stationed at the entrance to the Wordshop Marquee, which allowed them to listen to wonderful presentations by Mike O'Connor, Janice Sawerbny, Wayson Choy, Priscila Uppal, Eva Stachniak, Jack David, Antanas Sileika, Kim Moritsugu, Cynthia Good, Luba Lesychyn, Greg Ioannou, Richard Scrimger, and Hadley Dyer. They also had a chance to meet the eager authors who came to listen to the speakers.
"We were thrilled by the turnout and the opportunity to engage directly with our client base," declared Chandra Clarke, President of Scribendi.com.
"The Word on the Street proved to be an exciting experience, where we were able to have detailed discussions with authors about our service offerings and our unique ability to assist them in getting their books published," said Karen Ashford, Scribendi.com's Marketing Coordinator. "We were excited to see people from all over Canada getting to know our staff and our brand much better."
The Word On The Street also proved to be rich with potential Scribendi.com employees.
The staff met several promising candidates who were interested in joining Scribendi.com's team of remote editors. They also got the chance to meet some of the company's remote editors for the very first time!
The event was a huge success, and Scribendi.com is already looking forward to next year's The Word on the Street.