Scribendi.com Recognized for Export Excellence
Chatham, Ontario, company wins Ontario Global Traders Award for Market Expansion – Silver
September 20, 2010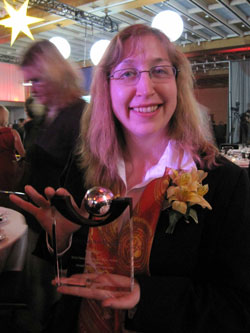 Scribendi.com has received national attention once again by winning the Ontario Global Traders Award – Market Expansion – Silver. By winning this award, Scribendi.com has shown that it has established itself as a top exporter by generating a significant increase in export sales and job creation.
"This award validates all the hard work our team has put into making Scribendi.com a global leader in editing and proofreading services," says Vice-President Terence Johnson about this prestigious award given by the Ontario Chamber of Commerce. "We do this because we want to blaze a trail for others in Southwestern Ontario and across Canada to follow, creating jobs in new, sustainable businesses."
The Ontario Global Traders Award, in its twelfth year, is the province's premier export recognition program. Recipients of the award were selected from more than 70 entries by a judging panel made up of distinguished representatives from Ontario's business media.
"These outstanding award winners exemplify business excellence through innovation, export diversity, entrepreneurial spirit and an understanding that the best investment is in their people," says Len Crispino, President and CEO of the Ontario Chamber of Commerce. "This is the award winners' opportunity to step into the spotlight to celebrate success, not only for themselves but for Ontario."
Awards were presented at a gala attended by 600 business and political leaders at the Metro Toronto Convention Centre on Monday, September 20, 2010. The event was hosted by Gemini award winning actor/comedian and regular on This Hour Has 22 Minutes, Shaun Majumder.
"This represents a tremendous achievement for our team," said Chandra Clarke, President of Scribendi.com. "It's easy to enter a market; it takes hard work to stay and grow in one, and we've done that."