Scribendi.com Named One of Ontario's Top Exporters
Online editing company in Chatham-Kent recognized as top exporter

April 20, 2006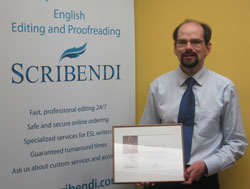 Scribendi.com has been recognized as one of Ontario's top exporters and an outstanding contributor to Ontario's economic growth.
Our company, based in Chatham, Ontario, received a 2005 Ontario Global Traders Award, honoring top achievement in both domestic and international marketplaces, at the awards ceremony in Cambridge, Ontario, on April 20, 2006.
"We are committed to providing the best possible service to our customers, no matter where in the world they live," says Vice-President Terence Johnson. "It is wonderful to be recognized for our efforts."
The Ontario Global Traders Awards constitute the province's premier export recognition program. First introduced in 1998, these Awards recognize the outstanding export achievements of the most innovative and successful medium-sized enterprises, business leaders, and promising students in Ontario. Also known as the Ontario Business Achievement Awards, this program is coordinated by Ontario Exports Inc., the Government of Ontario's export development agency, with support from its partners in trade.