Scribendi.com Wins Top Honors at 2009 Interactive Media Awards
Chatham company recognized for excellence in professional services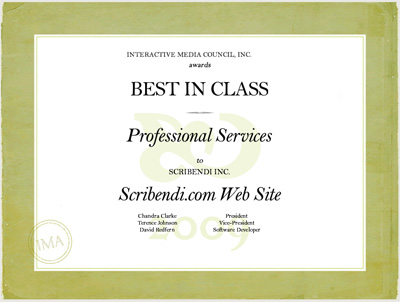 February 12, 2010
Our company has been awarded Best in Class by the Interactive Media Awards™ (IMA) for our recently redesigned Scribendi.com website. The honor recognizes that our project met and surpassed the standards of excellence that comprise the web's most professional work. Our site was specifically honored for excellence in Professional Services.
The judging consisted of various criteria, including design, usability, innovation in technical features, standards compliance, and content. In order to win this award, our site had to meet strict guidelines in each area—an achievement only a fraction of the sites in the IMA competition earn each quarter. The Best in Class award is the highest honor bestowed by the IMA.
"Being granted entry to such an exclusive club by the Interactive Media Awards is a testament to the true standard of excellence by which Scribendi.com operates," said Terence Johnson, Scribendi.com Vice-President. "The Interactive Media Awards are a highly sought-after prize, and this nod from the IMA is further validation that Scribendi.com is an industry leader in online innovation and implementation."
About the Interactive Media Awards™
The Interactive Media Awards™ recognize the highest standards of excellence in website design and development. Each year, the Awards honor individuals and organizations for their outstanding achievement. Created by the Interactive Media Council, Inc. (IMC), a non-profit organization of leading web designers, developers, programmers, advertisers, and other web-related professionals, the competition is designed to elevate the standards of excellence on the Internet and offer winners a boost in marketing and exposure. IMC serves as the primary sponsor and governing body of the Interactive Media Awards™, establishes the judging system, and provides the judges for the competition. Copyright © 2009 Interactive Media Awards, Inc.