Scribendi.com Secures a Spot on the PROFIT 500 List
Scribendi.com is named one of Canada's Fastest-Growing Companies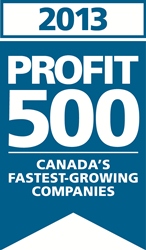 To celebrate its 25th anniversary, Canada's Fastest-Growing Companies Program has decided to cover Canada's top 500 companies in the PROFIT 500 awards. Scribendi.com is thrilled to announce it has earned the 248th spot on this list!
The PROFIT 500 ranks Canada's Fastest-Growing Companies by five-year revenue growth (nationally, regionally, and by industry). The program aims to reward entrepreneurs for their achievements and contributions to the Canadian market.
Chandra Clarke, President of Scribendi.com, is excited about the results. "This is great news for our organization, as it shows that we continue to grow and be extremely competitive."
"To celebrate the 25th anniversary of the Fastest-Growing Companies in Canada, the PROFIT 500 has expanded to recognize the entrepreneurial achievements of more than 500 Canadian companies," says Ian Portsmouth, Editor-in-Chief of PROFIT Magazine. "PROFIT is proud to now showcase Canada's forward-thinking small business entrepreneurs and honor their talents and innovations."
Scribendi.com has recently implemented several changes to improve quality management and the company's internal operations. Recognition like this confirms Scribendi.com's successful efforts to continually provide excellent service to its customers.