Scribendi.com President One of PROFIT W100
Chandra Clarke named top female entrepreneur by PROFIT Magazine
October 12, 2011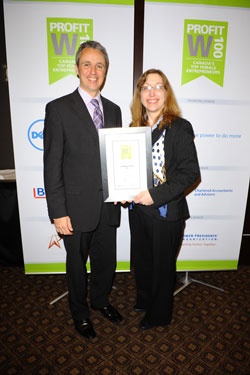 Scribendi.com President Chandra Clarke ranked 74th on the PROFIT W100 list for Canadian entrepreneurship, beating out thousands of other competitors and jumping more than 20 places from last year's win for being a successful female entrepreneur.
"Being ranked for the second year in a row is wonderful," Clarke said. "I'm really pleased that we are able to continue growing the company through a very tough economy, and even better, provide jobs in our area."
Clarke has been recognized for female entrepreneurial achievement by PROFIT: Your Guide to Business Success magazine. One hundred top female Canadian entrepreneurs were honored.
"The PROFIT W100 is a diverse group of entrepreneurs united by their passion, dynamism, and smarts," said Ian Portsmouth, Editor-in-Chief of PROFIT. "They set a tremendous example for business leaders of all kinds."
Ranking Canada's Top Female Entrepreneurs on a composite score based on the size, growth rate, and profitability of their businesses, the PROFIT W100 profiles the country's most successful female business owners. Published in the November issue of PROFIT, as well as online, the PROFIT W100 is Canada's largest annual celebration of entrepreneurial achieve­ment by women.
At the awards banquet, Chandra Clarke was awarded the Export Excellence award. Scribendi.com was honoured as Canada's top exporter by Profit W100.
"It was a pleasant surprise to win this award, and I'm very happy about it. It reflects the hard work of the Scribendi team in terms of diversifying our markets beyond Canada and even beyond the US," said Clarke. "It's particularly sweet to bring this back to Chatham-Kent, as it demonstrates that you can be the nation's best, and still enjoy the quality of life we have to offer here."
About PROFIT Magazine
PROFIT: Your Guide to Business Success is Canada's preeminent publication dedicated to the management issues and opportunities facing small and mid-sized businesses. Visit PROFIT online at https://www.profitguide.com/.