Scribendi.com Vice-President Nominated as One of Canada's Top 25 Immigrants
Help put CK back on the map by voting for Terry as Canada's top immigrant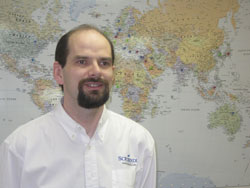 The vice-president of Scribendi.com,Terence Johnson, has been shortlisted for the Top 25 Canadian Immigrants of 2011 Award. It's a people's choice award that recognizes newcomers to Canada who have made a positive difference, either locally or nationally.
Johnson has been shortlisted alongside such notables as Alfred Sung (fashion designer), Michael Lutrell "Pinball" Clemons (CFL), Robert Herjavec (Dragon's Den), and Sonja Bata of Bata shoe fame.
"I'd like to thank the Chatham-Kent community for supporting my efforts to blaze a trail for other entrepreneurs to follow," said Terence Johnson. "With unemployment running high in Southwestern Ontario, it takes vision and courage to embrace newcomers as part of the solution, working alongside local entrepreneurs to create new jobs and opportunities."
Showcasing entrepreneurial talent or personal achievement helps to inspire other newcomers to Canada and provides them with positive examples of the great things that can be accomplished in this country, particularly in Chatham-Kent, he added.
"Anyone wondering where best to live and to start a business in Canada should give Chatham-Kent serious consideration," urges Johnson.
Voting begins on February 18, 2011, and any person living in Canada can vote; one vote per email address only.
Click here to vote. Find Johnson's profile by using the arrow keys under the portraits to move through the list alphabetically.