Terence Johnson Named Vice-President at Scribendi.com
Company welcomes Oxford grad Terence Johnson to the team
January 1, 2003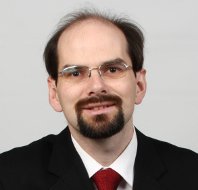 Scribendi.com President Chandra Clarke announced today that Terence Johnson, MA (Oxon), would be joining the company as a full partner, taking the position of vice-president. This appointment comes as our company undergoes office expansion and strengthen management support.
"I'm thrilled to announce the addition of Terence and the expansion of our executive team," said Clarke. "Scribendi.com is currently transitioning from an entrepreneurial business to a global enterprise, and this new management structure will enable us to capitalize more fully on the significant market opportunity in online document revision services."
About Terence Johnson:
A financial and IT professional, Terence Johnson has a long track record with strategic planning and leadership, and in implementing and leveraging information technology to achieve enhanced business results. Terence is the former programme officer of the Europaeum Office at the University of Oxford, as well as a past member of the United Nations Association Board of Directors. He holds an MA in Philosophy, Politics, and Economics from the University of Oxford and is an experienced network administrator and IT professional.
Update:
Since joining the Scribendi.com management team in 2003, Terence Johnson has been recognized for several national and international awards. He earned a Distinguished Honoree medal for IT Executive of the Year at the 2010 International Business Awards. Johnson was also shortlisted for the Top 25 Canadian Immigrants of 2011 Award, which is a leadership award recognizing the business contributions of newcomers to Canada.