Scribendi.com Receives ISO Certification
Chatham company meets world-class ISO standards
February 15, 2010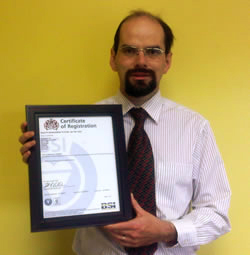 Scribendi.com is proud to announce that we have been awarded ISO 9001:2008 Certification by the International Organization for Standardization (ISO). This makes us one of the first companies in the document revision industry to receive this accreditation, and is clear recognition of our quality management procedures.
"Being recognized as an ISO-certified company is a huge accolade for us," says company Vice-President, Terence Johnson. "Not only does it verify that we provide a quality service, but the implementation of the new structure has also helped to streamline our business and enhance our day-to-day operations."
Scribendi.com was awarded certification after passing an independent third-party audit in December 2009. In order to remain ISO certified, Scribendi.com must perform regular internal audits and engage in continuous improvement.
About ISO
The International Organization for Standardization is the world's largest developer and publisher of International Standards. ISO is a non-governmental organization, comprised of a network of standards institutes from 163 countries. For more information on ISO, please visit https://www.iso.org/.