Scribendi.com Is Ranked on the PROFIT 500 List for a Second Consecutive Year
Top editing and proofreading provider Scribendi.com is one of the fastest-growing Canadian companies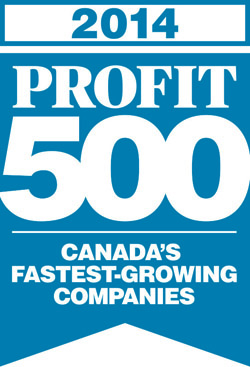 For the last 25 years, PROFIT Magazine has been celebrating 500 of Canada's Fastest-Growing Companies with their PROFIT 500 Awards. Editing and proofreading leader Scribendi.com, with its continued success, is honored to take the 227th spot.
"We are thrilled and honored to be ranked on the PROFIT 500 list for a second year," said Karen Ashford, marketing manager. "We wouldn't be growing at this rate without our hardworking and dedicated staff, located both in Chatham-Kent and around the globe and we would like to thank our loyal clients who continue to trust us with millions of words each day."
With the goal of acknowledging entrepreneurs for their accomplishments and their contributions to the Canadian market, the PROFIT 500 Awards recognize the companies with the greatest revenue growth over the last five years. Awards are given at the national, regional, and industry level, and with former winners such as Canada Goose, WestJet, and BlackBerry, Scribendi.com finds itself among the top Canadian businesses.
"The members of the PROFIT 500 are the elite of the country's entrepreneurial community," says James Cowan, Editor-in-Chief of Canadian Business and PROFIT. "Their stories are lessons in business strategy, innovation, management excellence and sheer tenacity."
Scribendi.com has been trusted with over 752 million words from over 223 countries and territories. Based out of Ontario, Scribendi.com employs highly skilled editors who work with documents that range from manuscripts to business communications to scientific and medical journals.
With a solid foundation in place for editing and proofreading, Scribendi.com has now expanded into content writing with a new venture: Inklyo.com.
Accolades such as these confirm that Scribendi.com is providing a service that its clients find beneficial, which inspires Scribendi.com to continue offering high-quality work at an affordable price.