Scribendi.com Supports Chatham-Kent Literary Event
Editing professionals sponsor poetry-and-music event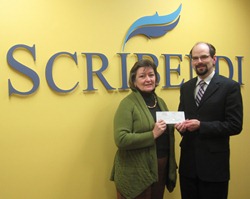 Scribendi is excited to sponsor the Mary Webb Cultural & Community Centre's second major poetry-reading-with-music event, which will take place on Saturday, April 13 from 7:00 p.m. to 9:00 p.m.
"It is very appropriate that Scribendi.com sponsors this event because it is about the written word," explained Marlee Robinson, Marketing Chair. "The evening is all about words; because Scribendi.com is the largest online editing and proofreading company in the world, it is a perfect fit. We are delighted about this sponsorship."
This event features four published authors: John B. Lee, Marty Gervais, Sydney Lea, and Douglas Glover. Lee, a Highgate native, is the internationally-known poet laureate for Brantford, Ontario. He has won several literary awards and has published over 50 books. Gervais, founder and co-owner of Black Moss Press, is an award-winning journalist, photographer, poet, playwright, historian, editor, and teacher. Lea is an American poet, novelist, essayist, editor, and professor, and is currently the poet laureate for Vermont. His work has been featured in The New Yorker, The Atlantic, The New Republic, The New York Times, Sports Illustrated, and many other periodicals and anthologies. Glover is the award-winning Canadian author of five story collections.
"Scribendi.com is strongly committed to supporting local authors, artists, and cultural activities, so we are thrilled to be sponsoring this community event," said Samantha Russell, VP of Operations at Scribendi.com.
The writers will be joined by Canadian folk musician, composer, and singer-songwriter Ian Bell, as well as Chatham guitarist and writer Michael Schatte. Bell, a recipient of the Queen's Silver Jubilee Medal, has been active on the Canadian folk music scene for over 30 years. Schatte is best known for his musical talents, but has also had his photography and lyrics included in an anthology published by Black Moss Press.
"We are delighted to play a role in fostering the burgeoning cultural scene in Chatham-Kent," said Scribendi.com's Chandra Clarke. "It is wonderful to see this kind of thing happening at Mary Webb."
The poetry-and-music event will be held at the Mary Webb Cultural & Community Centre, located at 87 Main Street West in Highgate, Ontario.