Scribendi.com Meets Local Job Seekers at CK Career Fair
The CK Career Fair allows Scribendi.com to meet hundreds of local candidates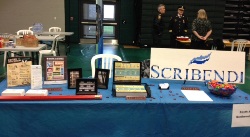 Scribendi.com had the opportunity to meet several promising candidates yesterday during the CK Career Fair. This event was hosted by the CK Workforce Planning Board at the St. Clair College HealthPlex. Impressive social media marketing and a lengthy roster of employers attracted hundreds of job seekers, and the day was a huge success.
Scribendi.com used the career fair to promote its telecommuting editor/proofreader (remote editor) position. Remote editors account for about 90% of Scribendi.com's workforce and enjoy flexible schedules and attractive perks, all from the comfort of home. Scribendi.com's remote editors are located in every time zone to support the company's 24/7 business model. The position is always open, as Scribendi.com is constantly recruiting remote editors. All qualified applicants are encouraged to apply.
"We were thrilled to be part of this initiative, and we were really pleased with the turnout," said Chandra Clarke, president of Scribendi.com. "We're very grateful to the organizers for providing this showcase opportunity."
The CK Career Fair was also a great way to educate Chatham-Kent residents about Scribendi.com and the services the company offers.
"It was amazing to see how many people recognized us right away," said Jaimie Christmas, marketing assistant at Scribendi.com. "Instead of asking what Scribendi.com does, people were coming up to me to talk about all the great things they have heard about the company."
The day was filled with excitement, and Scribendi.com looks forward to participating in similar events in the future.