New EBook Series Helps Writers Communicate Effectively
Editing and proofreading company launches how-to guides for writers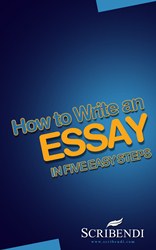 Scribendi launched its first two ebooks in a series aimed at helping all types of writers communicate effectively, accomplish their writing goals, and quickly get positive results. Whether it's writing an essay or starting a blog, each ebook in the series targets a specific writing need, offering helpful advice and outlining clear steps to help readers reach their specific goals.
"We are very excited about our ebook series," said Chandra Clarke, President of Scribendi.com. "We have designed it to provide useful and, more importantly, highly actionable information. It will help our readers get results fast."
Easy to read, engaging, and immediately useful, this ebook series is just another way that Scribendi.com is helping writers reach their highest potential.
"For anyone who has ever struggled to find concise, applicable advice on writing, these ebooks are for you!" said Samantha Russell, VP of Operations. "Designed with the reader's needs in mind, our ebooks provide step-by-step instructions, tips, and tools to help readers produce their best writing ever."
The first ebook in the series, How to Write an Essay in Five Easy Steps, is a guide for high school, university, or college students who need help with writing an essay and need it fast. The second ebook, How to Write a Blog, follows a similar format; it is a step-by-step guide for anyone interested in writing a blog, whether for business or pleasure.
Scribendi.com is the world's leading online editing and proofreading company.