---
Introduction
Finding an idea for a novel is tough. Transforming that idea into a polished, compelling story is tougher.
The process of crafting a novel from planning to publication involves many steps, and the key to navigating the stages of writing is first to know them. Knowing them allows you to anticipate what is coming and not become stuck, unsure of what to do next. Once you've made your way through each stage, you'll have a polished product ready for publication.
The pre-process of writing involves a lot of planning for most writers. Once you've brainstormed and have an inkling of your plot, characters, and setting, sitting down to plan your novel can be a very helpful step of the process. Creating and following (to any degree) a plan, general outline, or concrete structure will ensure that you know everything from the intricacies of your plot to all your characters' backstories. This is vital to ensure that your story is cohesive not only for your own benefit but also for your readers'.
Of course, this is just the first of the stages of writing; many others follow it. Even when a book is fully written, it's not finished until it's been reviewed at least a few times. As they say, writing is rewriting. Luckily, Scribendi supports authors at every stage of the writing and revising process.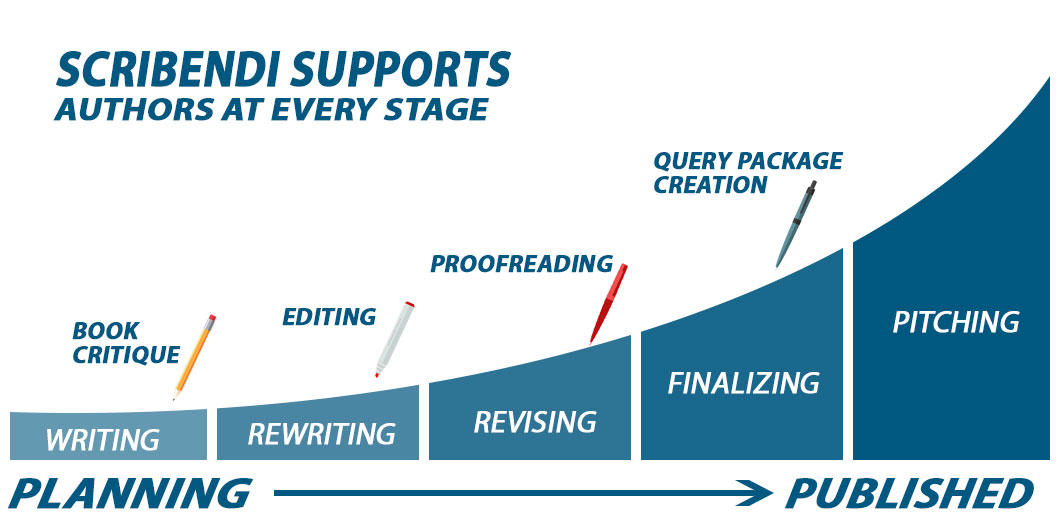 ---
Stage 1: Writing
Stage 1 of the writing process is, of course, writing! We wrote the book on fiction writing (literally) and have offered tips and tricks on drafting a novel; if you're more hands-on, there are also courses to help you begin writing your novel.
There are no hard-and-fast rules in fiction writing. However, every story begins with a single sentence. Getting one down, then another, and then another is the basic to-do list of a writer, and the more sentences you write down, the more items you check off, and the closer you get to finishing that novel.
It's important that you write consistently, even when it's difficult. Get into the habit of writing, and make it so habitual that you can't stop doing it. If you've made it your goal to write a novel, don't stop writing until you've reached it.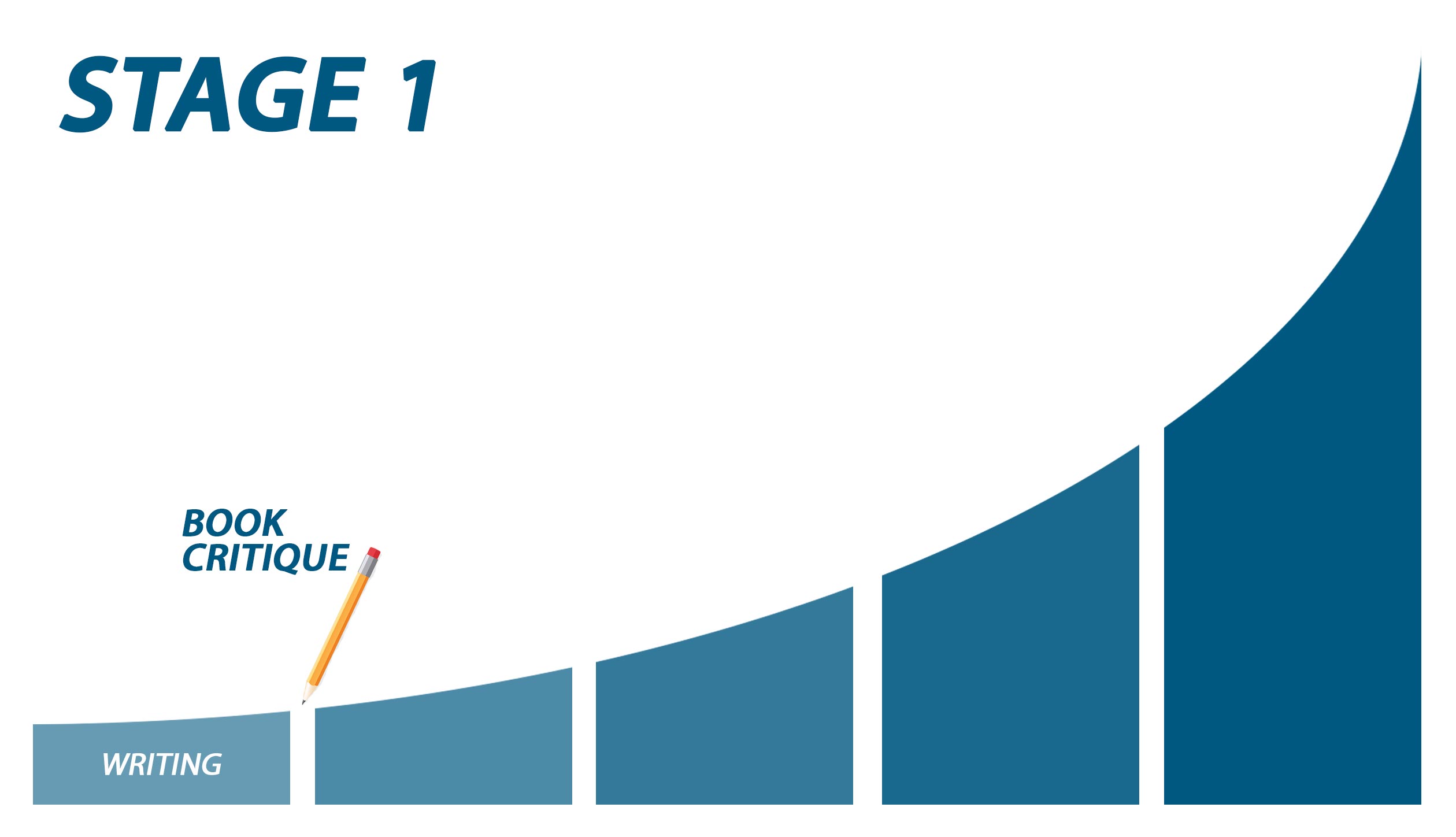 Post Stage 1: Book Critique
Remember that writing is among the first of the stages of writing. Once the rough draft is finished, it's time to start the process of reviewing your work. However, it can be difficult to review your work without bias.
On one hand, you might be a bit embarrassed by your first draft. However, it's impossible for you to view your writing objectively. While you already know everything that's going to happen, your readers are not robbed of the joy of flipping through each page and experiencing each new event, character, and setting for the first time in the same way you are.
On the other hand, you might be very proud of your first draft. You might think you've written the next big hit, and you're excited to send your book on its way to dazzle a publisher. However, you've lost the objectivity needed to review your writing without bias and catch the weaker elements that might affect the salability of your book.
Either way, a book critique can help you get the feedback you need. An honest review of your work can help you save time and energy in the long run by allowing you to catch any big problems early in the process of writing your novel.
Stage 2: Rewriting
Since writing is rewriting, the next of the stages of writing is just that. After receiving some valuable feedback, you can put it to good use by reversing gears and diving back into your story. Fixing the big problems with your book, such as plot inconsistencies and other content issues, is the main focus of rewriting. In this stage, you'll use the results of your book critique to build your novel and make it stronger than it was before.
Don't worry about technical errors like grammar or spelling problems just yet (hint: that's what the next stage is all about!). For now, focus on implementing the feedback you've received, not taking criticism personally but instead taking it seriously. That is, consider each piece of advice, but don't feel the need to change every little thing about your story. Everyone will have different opinions; simply take everything into account to create the best possible story you can.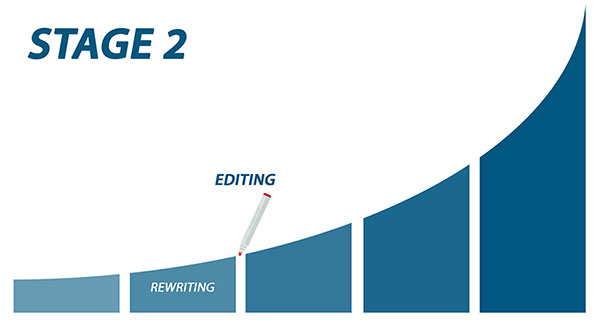 Post Stage 2: Editing
You may notice that, while combing through your story, some errors jump out at you, either underlined by your word processor in an angry red color or caught by your own eye. These are just the errors you can see; they may not be the only errors present in your book. Other errors, such as stylistic issues, will be noticeable to a publisher.
That's why it's a good idea to have your book edited by a professional. For your story to reach its fullest potential, the writing will need to be smoothed out. A critical commentary on your work will ensure that not only the grammar and spelling are perfect but that the style, tone, and structure of your novel are also on point. While the book critique looked at your work as a whole and offered advice on making it better, the editing stage will involve a line-by-line review of your document for grammar, structure, flow, consistency, and much more.
Stage 3: Revising
Revising involves taking that marked-up copy and beginning to polish it. Consider each revision and comment to maximize your novel's chance of success in the eyes of a publisher and to take your writing to the next level.
Though revising is one of the longer stages of writing, you may find yourself learning quite a bit. Noticing these errors and the patterns of errors you make, and learning how to fix them will help you become a better writer.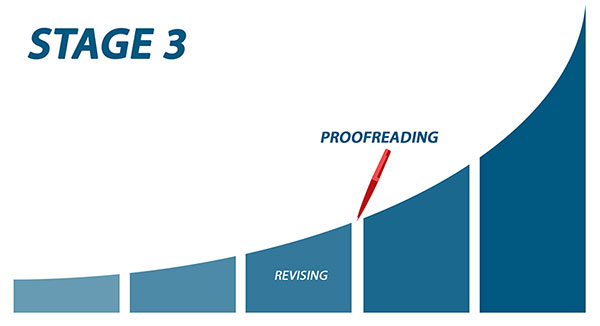 Post Stage 3: Proofreading
You may think that since your book has been professionally revised, it's ready to be submitted. However, consider all the changes you may have made not only to improve the technical issues but also to address the comments and work on the content of your novel.
It's easy to introduce errors into your writing during the revision process, such as typos or missing punctuation. Moreover, it's easy to miss these as the writer of the novel, since you've read and reread the content.
That's why a final book proofread is important. A professional proofreader can catch the errors that stand out to a publisher and make you look unprofessional, making sure your book is truly ready for publication.
Stage 4: Finalizing
If you feel like this list is getting a bit long, not to worry; this step should be quick. Simply review the changes and comments made by your proofreader and implement them. A perfectly polished draft should be looking back at you. At last, a finalized book!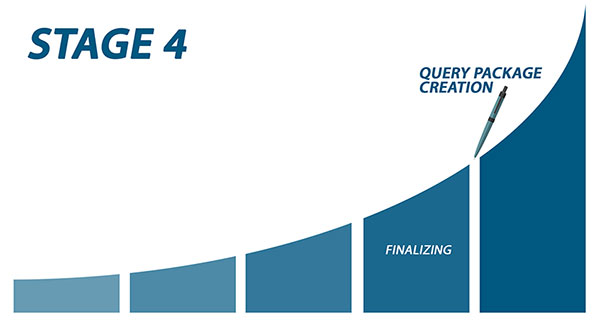 Post Stage 4: Query Package Creation
Now that your novel is finally complete, you can pat yourself on the back!
But your job isn't over yet. It's time to pitch your novel to a publisher. Along with your complete book, you'll need a query letter promoting your novel, a synopsis to summarize it, and an outline to provide a detailed description of each chapter for your publisher's perusal.
"What?!" you might be thinking, "But I just finally finished writing!" Not to worry. As mentioned, Scribendi supports authors at each of the stages of writing, and query package creation is no exception. Simply provide us with your book, and let a professional who knows exactly what a publisher is looking for produce the three documents needed to sell it.
Stage 5: Pitching
With your polished book and query package in hand, you're ready to submit. Pitching your novel to a publisher or agent is the final stage of writing and the first step to getting it published.
Do your research and be sure to choose the publisher or agent that you think suits your novel and will handle it well. Look into publishers' policies on simultaneous submissions and unsolicited books before you submit your book anywhere.
Once you've decided on the ideal home for your novel, make sure you follow all the submission guidelines. Then, send that book away! While you wait for a response, don't forget to congratulate yourself. You've conquered all the stages of writing, and for that, you should be proud!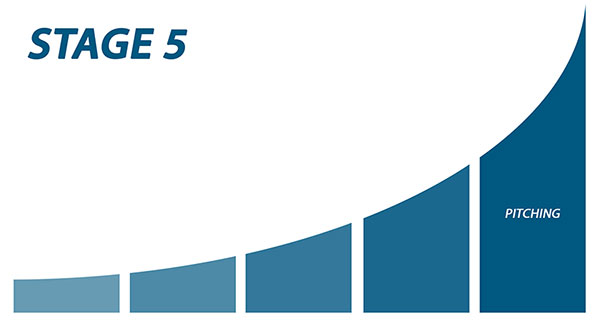 Conclusion
Getting any kind of response can take some time, so be patient. Since publishers and agents receive so many books, getting published is a slow process even if you receive good news. As a writer, it's important not to stay still. Be sure to keep writing and working on a new project while you wait for any kind of news by starting the process over again.
If your book is accepted, the publishing process is another beast entirely, but your publisher or agent should guide you through it. If your book is rejected, though, don't fret. Keep pitching your novel to different publishers, and be patient. Either way, write on.
Image source: Bruno Nascimento/Stocksnap.io
---
Revise Your Book with High-Quality Editing
---
About the Author

Jes is a magician and a mechanic; that is to say, she creates pieces of writing from thin air to share as a writer, and she cleans up the rust and grease of other pieces of writing as an editor. She knows that there's always something valuable to be pulled out of a blank page or something shiny to be uncovered in one that needs a little polishing. When Jes isn't conjuring or maintaining sentences, she's devouring them, always hungry for more words.