Improve your fiction or nonfiction manuscript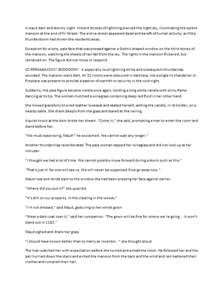 Before Editing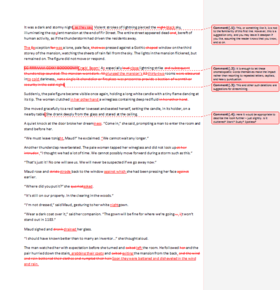 After Editing
(Click to enlarge)
Whew! You've finally gotten that first draft out of your head and into the computer. Why not have a professional editor give it a good clean-up and critique while you take a break?
Our manuscript editing service is designed to clean up an early draft of your work. We'll help you identify weak points and other issues to improve your future drafts.
We'll edit for style, tone, word choice, and sentence structure. We will also have a hard look at the elements of fiction or nonfiction as appropriate—things like plot, dialogue, and characterization, or structure, strength of argument, and clarity—and make lots of helpful suggestions.
You'll receive critique comments throughout the body of your work, and a short summary critique too. You'll get a stronger, much improved manuscript as a result. Finally, we'll take a first look at spelling, grammar, and typographical errors, tidying up these issues so you can concentrate on the creative process.
Don't worry though—we won't rewrite it, and you'll be able to see exactly what we've changed or suggested, giving you complete creative control. We know the importance of preserving the author's voice! Even better, in seeing our changes, you'll be able to learn from what has been done, making you a better writer. You'll get everything you need to head into your next draft full of confidence.
Since we know how hard you have worked to write your manuscript, we will make sure your files are secure. We will never make a claim on your copyright, and we keep your personal information private.
We can work with most major word processing file types, and we have editors with experience in nearly every genre and format.
Check out our author FAQs for more information, or put us to work using our simple and easy quote generator below to order today!
What can I use the manuscript editing service for?
This service is for novels, novellas, short stories, plays, poetry, books, fiction, or nonfiction. If you have a journal article, please see our English academic editing service.