A fiction editor from Scribendi can help you reach your creative potential.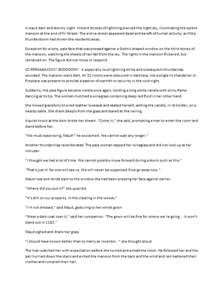 Before Editing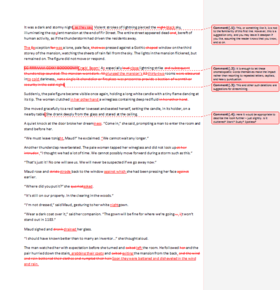 After Editing
(Click to enlarge)
Writing fiction is challenging enough, but it turns out that writing is only half the battle of being a published author. Finding a fiction editor who suits the needs of your work is the next step in the writing process. You want to find a fiction editor who will help bring your vision to life, but what you don't want is an overbearing editor who tries to take creative control of your project. Scribendi's editors know where the creative boundaries are, and they never cross them.
Control of your project belongs to you and you alone. A fiction editor from Scribendi will add value to your work by helping you sort out tricky sentences, giving advice about the organization of your work, and pointing out any inconsistencies. For example, if your protagonist claims one thing in chapter one but then contradicts himself in chapter six, your editor will let you know. What your editor won't do is create traits for your characters, change the tone of your story, or otherwise alter the spirit of what you've created.
If you're still feeling wary about handing your work over to a fiction editor, why not try out Scribendi's free sample edit? Let one of our editors review 1,000 words of your work for free, and then decide whether you think our manuscript editing service is right for you and your work. If you're ready to find your fiction editor today, scroll down and place your order!
Get an Instant Quote and Place Your Order