Improve Your Script Today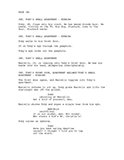 Before Editing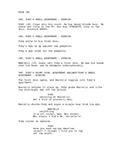 After Editing
(Click to enlarge)
Scriptwriting is a diverse field, and scripts for stage, screen, and online interactive media are distinct from each other and from any other form of written communication. PSAs, theatrical plays, interactive multimedia scripts, and short and feature screenplays each require the implementation of highly specified, technical formats. This is why script editing is a specialist skill.
A skilled script editor will improve the chances of your script submissions being accepted at a production company or of a director of a theatre company putting your play into production. Production companies hire experienced script readers to sift through thousands of scripts, and these readers know all the ins and outs of their industry's required format. Film and TV scriptwriting is a competitive field, and the script editing service at Scribendi will ensure a professional style that will help to get your script into production. Scribendi's editors will respect your vision while ensuring correctness throughout the script and offering the critical commentary necessary to help it reach its potential. Scribendi's editors know that the words are yours, but they will make sure that you find your best ones. The editors can provide the objectivity and clarity that is so hard for authors to find with their own work, and these experienced script readers and script editors know what the industry expects from a script.
What will you receive?
A completed document that has been formatted according to the specified script guidelines
Editing to help ensure correctness and clarity while maintaining the authorial voice and style
Corrections of spelling, grammar, and typographical errors
Tracked revisions so that you can see and review all the changes that have been made
Critical commentary on the key elements of the script
Suggestions to improve the script or address potential issues
A short summary of the work that has been done and any major concerns
What types of scripts can you use this service for?
Plays
Screenplays
Multimedia scripts
PSAs
Rest assured, your work is always secure, and uploads and downloads are safe and securely encrypted. Your personal information is kept strictly private. We handle most major file types, and we are excited to work with you.
If you need editing, the process is simple and easy. Get an instant quote below and place your order today!
Get an Instant Quote and Place Your Order