Stop Apostrophe Abuse and Free the Apostrophe!
New website draws attention to the apostrophe cause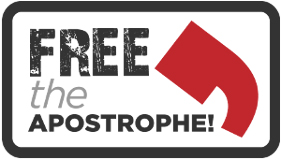 A site designed to raise awareness about punctuation abuse has already saved countless apostrophes, with hundreds of pledges joining the cause.
According to a spokesperson, FreetheApostrophe.com's goal is to shine light on apostrophe damage while uniting grammar sticklers worldwide in their fight to see apostrophe abuse eliminated once and for all.
"We're shocked at how many apostrophes have been saved since we started this," said a member of the Apostrophe Liberation Front going only by the first name Sheila. "At this rate, apostrophe abuse could end in a matter of months!"
Site visitors taking the FreetheApostrophe.com pledge do so by promising to never misuse an apostrophe again, recognizing the damage to society that apostrophe abuse causes, and the terrible personal toll that being trapped in bad phrases causes apostrophes themselves.
"I joined the group for one very important reason," explained a recent pledge, "to save a lonely, red apostrophe I saw in a sign last week. It was trapped in 'bread's' and couldn't escape."
FreetheApostrophe.com also provides visitors with the opportunity to learn more about apostrophe rescue operations, apostrophe rehabilitation facilities, or read about the plight of the apostrophe.
Visit https://freetheapostrophe.com/ to learn more about apostrophe abuse or check out our apostrophe infographic for information about how to use the apostrophe correctly.