Scribendi Editing Services API Transforms the Editing Process
September 7, 2011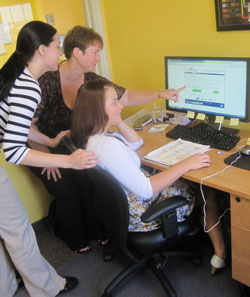 Scribendi.com has created an API (application programming interface) that will change the way corporate clients are able to have their documents edited. Our editing services API will allow clients and colleagues to search for our services and get quotes, place and manage orders, review the status of orders, and review completed documents from any user interface (website or application). Using our editing services API will ensure that all of our clients' documents are professionally edited and proofread through their own interface, allowing them to focus on their core strengths and offerings. They can be confident that their documents can be sent to be edited from anywhere—whether on the web or a mobile device.
"Our mission is to help people around the world to communicate clearly in English," said Terence Johnson, Vice-President of Scribendi.com. "Opening up our editing services API is a natural way to allow people to access our services faster, to build copy editing into publishing workflow and content management systems, to bundle and resell our services, and to build creative new applications."
Have you asked yourself: "What is an API?" Simply put, an API is a way for our clients' websites, applications, or software programs to talk directly to an ordering interface without having to visit another website first. For example, with our editing services API, bloggers will be able to send their blog posts straight from their blogging software to Scribendi.com for a quick pre-publishing check with the click of a button. Printing companies will be able to include us as an à la carte service. We liken this to the workings of a bakery. Right now, Scribendi.com's site is the visible retail side—the lovely area where you can buy a cupcake and a coffee. With the API, we will become a supplier to hundreds of other sites and programs—just like a bakery supplies buns and rolls to hotels and restaurants.
"Launching our editing services API poises the company for further growth, especially as companies move more toward mobile devices," explained Johnson. "We are the first online editing company to create an API, which really shows our dedication to innovation."
Our editing services API is a web-based XML system. It receives well-formed XML documents and provides an XML response. All requests to the API must be signed using a public/private key, and a signing hash must be included in every request. The XML API is encapsulated in the Scribendi.com PHP API Client library. This pre-rolled abstraction layer allows the API to be called programmatically from within PHP without having to build and call the services manually.
Register for our API now to see how we can help you create new market opportunities for your business or streamline your operations, saving you time and money.