Ebook Publishing
The advantages and disadvantages of ebook publishing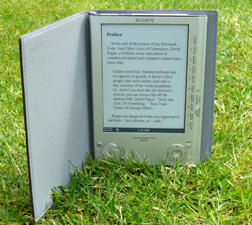 Have you often wondered how to get published? If so, ebook publishing may be the right avenue for you to take to realize that dream. Ebook publishing covers a broad range of products, from booklets on psychic readings to how-to software to hobby manuals to choose-your-own-ending kids' books. Ebook publishing may not meet everyone's needs, but don't reject the idea of making your manuscript into a downloadable product without at least first considering the pros and cons.
Ebooks have a bad reputation
Yes, there are lots of money-grabbing schemes disguised as digital novels out there. You can literally find hundreds of websites offering "fool-proof" ways to make "thousands of dollars in your spare time"—all you need to do is purchase a downloadable self-help guide for $29.99! These authors make money by selling books on how to sell ebooks to make money.
But that's not for you. You have a real story to tell, whether it be a novella, an illustrated children's book, or a hot novel with a storyline ripped from the headlines. Should you consider this path for your masterpiece?
The pros and cons of ebook publishing
Ebooks are easy to make
Advantage: Almost anyone can make an ebook. You can transform your manuscript from a word-processing format to an ebook very quickly, although choosing a format does require some thought. We've come to recognize two predominant formatting types—portable document format (PDF) files created by Adobe Software and Literature (LIT) files created for Microsoft Reader. Both choices control fonts, pagination, and layout, and optionally allow you to add indices, restrict the ability to copy, and even limit the number of times the book can be read. Microsoft Reader files use special technology to enhance screen readability and create a more familiar reading experience. Some people have objected to Microsoft's efforts to encrypt ebooks to prevent piracy, claiming that the security prevents even legitimate users from getting full value from the books they buy. PDF files are more common, but do not provide quite as much control over quality and appearance. Other formats either convert HTML webpage code into proprietary executable files or require a specialized reader that is usually free to buyers of the book.
Disadvantage: As almost anyone can make an ebook, it can be difficult to distinguish yourself from "almost anyone." To make your book equivalent to a "real" book (i.e., print), find and evaluate several digital book publishers before making a deal. A flashy website does not guarantee a great publisher. Look at the publisher's ebooks to see if yours fits in with that mix. Would you buy one of their books? Check the terms of any agreement you must sign to make sure you retain the rights that you should retain.
Ebooks offer quick access to your document
Advantage: If readers want your book now, they can purchase it with a credit card and download it on the spot—no shipping and no waiting. Minimal production costs mean a much lower price per copy, increasing the chance of catching the impulse buyer.
Disadvantage: Some readers prefer to hold a book in their hands and will pay more for the right to own the object, and not just the story. These tactile types may not spend money on what seems like "nothing" to them. Also, "quick access" is quick only if you know how to do it. Some book-buyers can't figure out the process or don't have the plug-in to accommodate your book format.
Ebooks cost very little to produce
Advantage: Lower production costs mean you can charge less, or retain a larger percentage of the proceeds. Some print-on-demand publishers charge little or nothing to list ebooks and offer higher cuts than for print, especially if you give them a print deal on the same book.
Disadvantage: Lower production costs mean you can charge less, so you make less per book. You may also find that you don't sell as many copies because the buyers for your type of book don't know to look for your book on non-traditional bookseller websites.
Ebooks do well in certain niche genres
Advantage: If you have a how-to manual, user's guide, romance novel, or children's book, ebooks may work well for you. Parents know how to find, buy, and download low-cost ebooks, and today's kids certainly know how to read on the screen. With virtual how-to guides, buyers can print out just the pages they need to take to the garden or shop.
Disadvantage: If your manuscript doesn't fit the ebook niche markets, you may discover that your book is overlooked or underappreciated. Some sites offer a large number of ebooks, but only in select genres. Niche genres work well because they have a pre-selected audience. Remember, digital publishing is still very young and unknown in most markets, so be sure to take your time when considering your options.
Deciding to make your book available as an ebook takes research and thought. Here are some links to help you with your investigation (Scribendi.com has no association with these sites and makes no claims about their content):
Whatever you decide, we wish you the best of luck with your publishing effort. Whether your book is printed traditionally or digitally, a good manuscript will keep readers coming back for more! To make your manuscript stand out, be sure to take advantage of our ebook editing service and our ebook formatting service.