The steps to making an ebook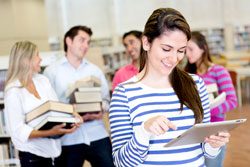 Electronic publishing offers an excellent means for quickly sharing books with the largest possible audience, and making an ebook is now easier than ever; multiple platforms are available, and you don't need extensive coding knowledge to put your ebook together.
Various services currently exist to help you create, edit, and publish your ebook. We has created this step-by-step guide for making an ebook.
Decide where you would like to have your ebook available
Currently, over 90% of all ebooks are read on Amazon's Kindle, Apple's IOS devices (iPad, iPhone, iPod), and the Barnes and Noble Nook, so any service that you choose should assist you in creating an ebook from your original text that will work on one of these platforms.
Have your ebook professionally edited
Professional editing services help authors make sure that every word and sentence of their ebook is perfectly written. It is always wise to have your work edited during the writing process, and proofread at the end, to eliminate any confusing or distracting errors.
Scribendi, the leading online editing and proofreading company, offers both ebook editing and proofreading services. The ebook editing service is designed for early drafts that have not yet been formatted to ebook publication standards. Our professional ebook editors will identify weak points or structural issues, critique the body of your work, and provide a short summary of the critique. We will also check style, tone, word choice, and sentence structure, making lots of helpful suggestions along the way and tidying up errors so you can concentrate on the creative process.
Once you have a final draft and are ready to publish, you can also opt for an ebook proofreading service. Our professional proofreaders will eliminate all the spelling mistakes and grammatical, typographical, and other linguistic errors you've seen so many times that you don't even notice them anymore. We'll clean and polish your ebook into an Amazon or Smashwords bestseller!
With more than a decade of experience, our ebook proofreaders have worked with a wide range of genres and formats in both fiction and nonfiction. We can accept most major word processing file types, including PDFs. We can also provide a final proofread on already-formatted ebooks, including Kindle and ePub files. You can upload and download your files securely, and your material and personal information will remain confidential.
Format your ebook
The process of formatting it into an ebook is best left to people who do it professionally! As mentioned, companies like Amazon require that ebooks be submitted in particular formats that are compatible with their platform(s). Consequently, the number of companies that format ebooks is continuing to grow.
Here are some common ebook formats:
epub (open standard format for ebooks created by the International Digital Publishing Forum)
Kindle (Amazon's proprietary format)
Scribendi can format ebooks, ensuring that they have consistent fonts and copy sizes (for chapter titles, pagination, etc.) and that they meet the requirements of the companies with which you want to publish your work. Writing an ebook is hard enough; you shouldn't also have to worry about formatting and converting your ebook so that it meets the requirements of Amazon or Smashwords. Let the experts handle your ebook formatting!
As an author, you want your ebook to look professional, and Scribendi takes this job very seriously. Your ebook will have a dedicated formatter who will review your content line by line, ensuring that you have consistent spacing, font sizes, and headers. Just submit your Word document as is, and our expert, human ebook formatters will do the rest. We will turn your Word document into a beautiful, professional-looking ebook while sparing you the frustration.
Submit your book to the platforms you would like to have it available on
There are many options for publishing your ebook.
With Amazon's Kindle Direct Publishing service, you can self-publish your book at the "Publishing and Review."
Barnes and Noble Nook: Barnes and Noble adopted the open epub standard for ebooks in 2013. You can go through BookBaby to publish your ebook for the Barnes and Noble Nook.
Self-publishing is available through websites such as Lulu; Lulu will make your book available in formats that are compatible with both the Kindle and the Nook.
Market your ebook
Savvy marketing mixes the old and the new—a strong social media presence, good old-fashioned "boots on the ground," and persistence.
Here's how you can start to build a readership after you publish your ebook:
Talk to everyone you know about your work.
Mention your ebook on Facebook, Twitter, and so on.
Ask people to review your book on sites such as Amazon and Goodreads.
Contact local bookstores to set up readings from your ebook; you can also take your work out to "open mic" nights and read excerpts of it there.
Libraries are always looking to hold cultural events and assist local authors; is there a spot for your work?
Keep on writing
It seems obvious to say that writing is the best way for a writer to build and maintain an audience; but it is! The more you write, the more your talent will grow—and the more work your fans will have to discuss, read, and support. Publishing ebooks and building a readership is a way for authors to accumulate a large audience. Maybe the next big success story will be yours!