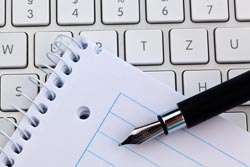 We all have that one supercool friend. You know who I mean—the person who is nice, and funny, and smart, and who gets along with everyone. You know the person whom you want to hate, but you just can't because he or she is too great a person. Well, it turns out that there are cool kids just like your friend in the world of website copy too. The important difference between the two, however, is that while it is ultimately uncool to copy the actions of your friend, it is totally acceptable to take some notes from your favorite website. Web copy optimization is essential to making sure your site hits the top of the charts, and looking at good examples of copy is the first step to learning how to best create your own copy. Here are four websites that totally rock at website copy and some notes about exactly what they're doing right.
1. ModCloth.com
Who are they?
ModCloth.com sells everything from shoes to bedroom accessories. Its retro dresses and other such clothing are how it got started, and these items are probably still its biggest sellers. ModCloth.com ships to the U.S., Canada, the U.K., Australia, and other countries around the world.
So why are they so special?
In short, ModCloth.com rocks because it respects the intelligence of its customers. Its website copy is clever and cheeky, with punny names for almost all of its products. A pair of dress pants might be called "Profession Your Love" pants, while a fancy dress might go by the name of "No Time Like Wow." The product descriptions are both funny and informative. Other areas of the website, such as the FAQ page, are written clearly and concisely.
What should you learn from their website copy?
Give your customers or clients some credit. A dress is always a dress––it doesn't need to be called "Blue Cotton Garment for Wearing" for customers to understand what it is. Give them the information they need without spooning it to them like infants, and you might just find they're smarter than you thought.
2. Firebox.com
Who are they?
Firebox.com is a gigantic online store based in the U.K. It basically sells everything.
So why are they so special?
"FIREBOX: NOT FOR EVERYONE" is first thing you see on the homepage of this website. The bold website copy uses hilarious product descriptions to entertain and (kind of) inform customers. For example, an ad for unicorn slippers describes the slippers as a "legendary mix of cutesy design, golden spangly horn and slightly smarmy grin that only an apocryphal animal of fairy tale standard can pull off."
What should you learn from their website copy?
Be bold. Establish the voice you want your website copy to have, and find a way to stay true to that voice without getting stale. Basically, just be awesome at everything.
3. Onefinestay.com
Who are they?
Onefinestay.com is a company that arranges for its customers to stay in other people's houses while those people are away. It defines this as staying in an "unhotel." Onefinestay is based in the U.K. and can arrange for stays in London, New York, Los Angeles, and Paris.
Why are they so special?
The copywriters at onefinestay.com cater to their audience. Their website copy is casual and laid-back, much like people who stay in the homes of strangers are.
What should you learn from their website copy?
Know your reader. You need to know what kind of people will be in your audience and write specifically for that audience. Pretentious writing with a lot of jargon or customer-service type language won't get you very far if your audience is mainly young travelers looking for interesting places to stay.
4. Moosejaw.com
Who are they?
Moosejaw is a store that sells outdoor hiking and sports gear. It has several locations throughout the United States, as well as an extensive online store with punchy product descriptions and other great website copy.
Why are they so special?
Much like Firebox, Moosejaw is known for the quirky tone of its product descriptions and other website copy. It manages to make products like hoodies and snowshoes funny without sounding as if it is trying too hard. Even its Contact Us page has flair: "Live chat may be the best way to reach us ever. Take it for a spin if you don't believe me. If you mention the code 'I balanced a piece of ice on my nose for eight hours' when you're chatting we won't give you anything."
What should you learn from their website copy?
Be consistent. Moosejaw's particular brand of humor is arguably as important to its success as its products. Customers expect to be entertained while they shop, buy, and live-chat with customer service representatives. If everyone is not on board with the company's tone, the tone cannot be maintained.
Image source: kaboompics/Pixabay.com