Get a better website right now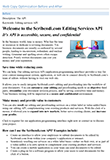 Before Editing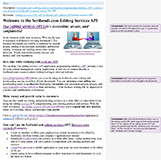 After Editing
(Click to enlarge)
Consumers often measure a business by the quality of its website, and web-friendly writing and easy navigation encourage return visits. However, content for the web involves more than just appealing copy. You can integrate marketing methods, such as search engine optimization, into your prose to catch the attention of search engine indexing programs. Content optimization improves your odds of being ranked better in search engine results pages for your desired keywords, increasing targeted site visitors and conversion rates. Your competitors are employing web copy optimization; you should, too.
Start your web optimization strategy by partnering with the experts at Scribendi.com. We revise your content for more than correctness and flow; our editors research the applicable keywords you provide for each of your webpages and use them throughout your copy to ensure that your website is optimized for both your visitors and search engines. In addition to applying your keywords to your webpage copy, we also optimize your headers and anchor text to improve overall functionality and to increase visibility to your desired audience. We will create meta data for your pages and ensure that your content is effectively optimized.
Whether you're creating a website from scratch or updating an existing website, you know that today, content is king. From blog articles to expanding social networks, search engines favor sites that regularly provide fresh content. Use Scribendi.com's website content optimization services to put your business ahead of your competitors.
Getting started is quite easy. Just generate a free, no-obligation quote below and order today!
Get an Instant Quote and Place Your Order