Strengthen Your Faith-Based Writing with Professional Editing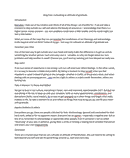 Before Editing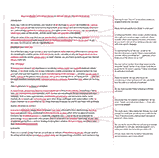 After Editing
(Click to enlarge)
When you write about faith and spirituality to inspire, teach, or encourage your readers, it is vital that you convey your message clearly—without the distraction of grammar and spelling errors. Scribendi's expert editors want to help you improve your writing, editing and proofreading your manuscript to ensure clarity and flow while maintaining the integrity of your message.
Since 1997, spiritual writers from around the globe have entrusted Scribendi to provide high-quality editing and proofreading and to ensure that their ideas are well articulated. Our editors are strictly native English speakers who are unrivaled in experience and education.
Not only do we have experts on Christian editing, but we also have editors who specialize in theology, philosophy, spirituality, religious studies, and faith-based writing from authors of all religious denominations. Whatever your faith or religious views, our editors will respect your beliefs, revising your spiritual writing for style, tone, clarity, and strength.
If you would like more information about the other services we provide, please take a look at our website to find out more about us.
What will you receive?
An edited document in which spelling errors, grammar errors, and typos have been corrected
Changes and suggestions to help improve clarity, flow, structure, and readability
Tracked revisions so that you can see and review all the changes that have been made
Comments and suggestions to help improve your writing and your message
A short summary of the work that has been done and any major concerns
What types of documents can you use this service for?
Spiritual and religious blogs
Sermons, homilies, and speeches
Essays or dissertations on religion
Prayers, hymns, and religious poetry
Memoirs and personal testimonies
Social media posts and comments
Personal correspondence
Inspirational messages
Our team has the software to handle most file types, and we have the experience to handle all types of personal communication, from a letter to an announcement in your local paper. We'll give your document the best possible treatment, providing you with the same level of security and confidentiality that we provide our largest corporate clients. Uploads and downloads are safe and securely encrypted, and your personal information will always remain private.
Getting started is easy. Just get an instant quote below so that you can place your order today!
Get an Instant Quote and Place Your Order