Scribendi.com Helps Bring Apple Technology to Chatham–Kent
Editing company sponsors Chatham–Kent Public Library technology fundraiser
Editing and proofreading company Scribendi.com is excited to support the Chatham–Kent Public Library. Scribendi.com provided a monetary donation to the Chatham–Kent Public Library, to help support its efforts to raise funds for the purchase of new technology for its library branches. To raise funds for the project, the Chatham–Kent Public Library will be hosting a fundraising event, the SparkIT Fun!raiser, on September 27, 2013, at 7:00 p.m.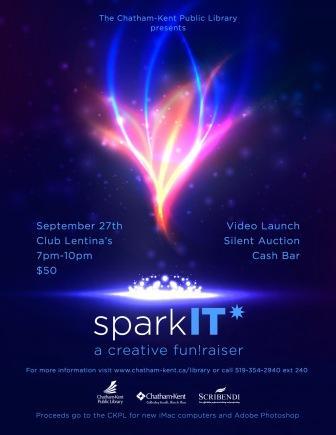 "At Scribendi.com, we firmly believe in the library's mission to make connections between ideas, knowledge, people, and places," said Scribendi.com's President, Chandra Clarke. "We're also very committed to helping Chatham–Kent grow and prosper, so supporting this initiative was a no-brainer for us."
The event will include a video launch, a silent auction, and much more, with the hope of bringing the latest Apple technology to Chatham–Kent's library branches. The video will provide comprehensive insights into the importance of libraries and will give an in-depth look at what libraries mean in people's lives. The support generated through the campaign will place Apple computers in five of Chatham–Kent's library branches. This access to technology will be of great benefit to the community, providing all members an opportunity to create presentations and media projects, enhance their digital technology skills, and assist in collaborative works.
"The future of library services lays in the provision of technology to our residents," said Tania Sharpe, the library's Public Services Manager. "Providing CK residents with access to new technology assists them in remaining relevant in today's world and with continuing in the pursuit of lifelong learning—a mission of the public library."
The event will be held at Club Lentinas, located at 250 National Road in Chatham, Ontario. The fundraiser will provide a practical way for people to support the Chatham–Kent community. The Chatham–Kent Public Library has set a goal of raising $10,000, which will be put toward the library's new technology. Tickets for the event cost $50, and purchasers will receive a $25 charitable giving receipt.
Scribendi.com is thrilled to support this project within the Chatham–Kent community and looks forward to the many benefits this new technology will bring to members of the community.