Chandra Clarke Ranks on 2016 W100 List of Canada's Top Female Entrepreneurs
Editing and proofreading company president lands a spot in the top 30 of the 18th annual W100 ranking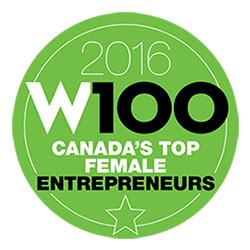 PROFIT and Canadian Business have ranked Chandra Clarke, president of online editing and proofreading company Scribendi, No. 29 on the 18th annual W100 list of Canada's Top Female Entrepreneurs. This is the seventh consecutive year Clarke has appeared on the list. Published May 16, 2016 at PROFITguide.com, the W100 ranks female entrepreneurs using a proprietary formula that considers the size, growth rate, and profitability of the businesses they own and manage.
"The members of the 2016 W100 each possess the talent and tenacity to start and grow a successful business," said James Cowan, editor-in-chief of PROFIT and Canadian Business. "Their remarkable achievements serve as proof that ambitious, risk-taking female entrepreneurs are integral to the growth of the Canadian economy."
Climbing in the rankings this year, Clarke has moved up from No. 46 in 2015. "We're really pleased to have made this ranking for the seventh consecutive time," said Clarke. "It demonstrates how consistently and reliably our team performs year after year."
Clarke founded Scribendi in 1997. Since its inception, the editing and proofreading company has expanded into a global enterprise, providing clients with fast, reliable, affordable document revision services. By focusing on innovation, customer service, and high-quality editing, Scribendi has secured its position as the premier editing and proofreading company.
Full W100 editorial coverage will also appear in the June 2016 issue of Canadian Business.